Here we go with the second Big Brother 12 Endurance HoH Competition!
The endurance competition is called "True Colors" and it has all the HGs on a giant, spinning can of paint with a slamming brush. The first HG to fall becomes this week's one and only Have-Not while the last standing becomes the next HoH!
So here's the deal: if you want to watch this competition live as it happens then you have to have your Big Brother Feeds up and running. If you don't have the feeds then this is exactly when you need to sign-up with the free trial and see how they work. You'll be able to watch everything live and unedited as it happens!
Big Brother 12 Week 5 HoH Endurance Comp Results: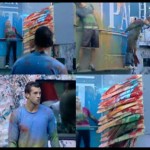 9:27 PM BBT – Live Feeds are back! Kathy and Enzo are down already! One of these two Kathy will be this week's only Have-Not.
9:28 PM BBT – Brendon is down!
9:30 PM BBT – Britney, Matt, Ragan, Hayden, and Lane remain.
9:35 PM BBT – Brendon is whining in the corner that he's going home this week. Rachel says it'll be her.
9:38 PM BBT – Britney, Lane, and Hayden are down.

9:40 PM BBT – Ragan and Matt remain.
9:45 PM BBT – Still just Matt and Ragan.
9:53 PM BBT – Ragan getting ready to drop.
9:54 PM BBT – Ragan drops. Matt is the only HG left. Worst HGs EVER.
Grab your Live Feeds Free Trial right now to watch what happens next.
Congrats go out to Matt as the new HoH! Watch out Brenchel, well mostly Brendon! Do you think Matt will make the same mistake twice in this game? I doubt it. My prediction: tomorrow's noms will be Brendon and Rachel! Stay close and I'll keep you posted as soon as it happens on Friday.
Kathy was the first to drop so she'll be this week's only Have-Not. Aww, Brenchel are fighting already. Well get it out of your system, you two, because you've only got seven days left to do it! What do you think of tonight's results?
To stay up on tonight's live comp discussion use our Chat Room, this thread in our Forum, or even our new Big Brother Live to continue your conversations!