It's been a long road since premiere night when Julie Chen opened the front door and ushered us in-to a new season of Big Brother. After much deliberation and discussion, here are our Top 12 events from this season (*pfft* Top 10? We're doing a Top 12 because it's Big Brother 12!). Taking a page from production's book, I'll be stretching this one out and breaking the post in to two parts so you'll have to check back in on Monday for the second half. Muahahah!
#12 – Brenchel calls a House Meeting
It was only Week 2 in the house when we got our first dose of mass drama. After offering himself up for eviction Matt invoked the wrath of Brenchel when they discovered he had used the opportunity to vilify them. The first House Meeting of BB12 was called because Rachel wanted this season to be played in the open and without deception. Uhh, I thought you were familiar with Big Brother, Rachel.
Best part: Matt diffuses the situation, HGs completely disregard the events, and Monet still gets evicted.
#11 – Enzo eats and eats and eats as a Have-Not
Despite being banished to Have-Not-dom and only allowed to eat slop, broccoli, and bean dip Enzo proceeds to eat anything he can get his hands on. Enzo managed to eat pizza, handfuls of snacks hidden in his penguin costume, dodge cameras between the fridge doors to eat, and even ate nuts off the ground. You'd almost forget he got to take an approved break as a Have-Not to enjoy a Hawaiian feast mid-week thanks to Britney's Pandora's Box misfortunes.
Best part: Is there a best part? After punishing BB11 HGs for a sip of Gatorade and a single grape with an extra 24 hours of Have-Not, the BB12 production crew couldn't grow a backbone long enough to punish Enzo in the least.
#10 – Shower adventures with Lane, Kristen, and Monet
What's Big Brother without some good ol' shower nudity? This season's shower doors didn't fare well against some of the taller ladies this season as both Kristen (NSFW) and Monet (NSFW) had their topless moments made especially for the Big Brother Live Feeds. Shower adventures weren't limited to the women though as even Lane found time for himself (NSFW) while the cameras captured all his facial expressions.
Best part: Right after Lane finishes doing what he was doing Hayden comes back to tell him the coast was clear. Lane panics and tells Hayden he was supposed to warn him before, not after!
#9 – Former HGs Jeff, Jordan, and Jessie return
What's a show to do when their current cast lacks that spark of past seasons? Why you just bring back BB11's Jeff and Jordan. They reminded us romances could start with a friendship and build to relationships while showmances jump to "I love you" in week 2. Not all the returns were pleasurable though as Jessie busted in to the game for his third straight season as part of Pandora's Box.
Best part: After being tempted with an hour of advice from a past HG Britney opens Pandora's Box to discover the most narcissistic 60-minute work out of her life courtesy of Jessie.
#8 – Sabo-II plants a note under Enzo's pillow
The Sabo-II's only physical interaction with the HGs targeted the house's most paranoid player, Enzo. Ragan planted a note featuring the warning, "I Know Your Secret," under Enzo's pillow and got just the reaction he wanted. Enzo, shocked, initially attempted to pass it off on another HG, but ultimately shared it with everyone and eventually blamed Kathy as its source.
Best part: Ragan was effectively paid $20K to carry a pre-written note from the DR to the Taj room. It was the only "prank" that required discretion and risked discovery in his role as Sabo-II while the rest were safely completed in the DR.
#7 – Brendon attempts to get evicted to save Rachel
Reversing BB2's events where the woman, Shannon, fell on her sword for the man, Will (Dr. Evil), Brendon attempted to aggravate the house to draw eviction votes his way. The HGs saw right through this ploy and pretended they'd evict him while plotting to send Rachel to the Jury House. Brendon took it as far as shoulder-bumping Britney and getting Ragan to step on his shoes (yeah, I know). Despite all his annoying, bullying behavior Brendon was kept behind while Rachel was sent packing.
Best part: Amidst a heated exchange with Ragan and Britney, Brendon stops to correct their pronunciation of "Neanderthal" as "Knee-ander-TALL" causing an outburst of laughter and an imitation of his walk from Britney. Surely this was the intimidation reaction he had hoped to achieve.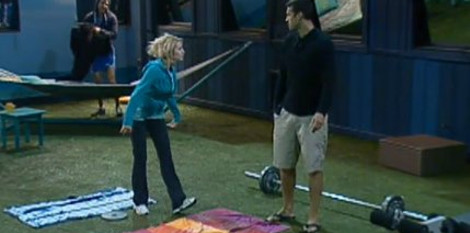 Ready for Big Brother 12's Top 12 events #6 down to #1? Stay tuned for when I release the rest of the list on Monday! Did these events make your Top 12 list?