Hey there Big Brother fans!  Check out my interview with Britney Haynes and see what she says was her biggest move in the game!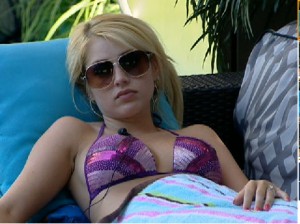 Ashli Rae:   Do you regret putting Matt on the block when you were HoH?
Britney Haynes:  No – I think it was the smartest move that I made in the game.
AR:  Of the three guys left in the house, who do you consider the biggest floater?
BH:  Absolutely the biggest floater is Enzo. His game is 100% social. It worked for him, but I do not see him as a competitor.
AR:  As far as your game, do you think you put too much trust into Lane?
BH:  Not necessarily. I made it to the final four and had the chance twice to advance myself further. I didn't need anyone else to go farther; I just didn't perform in competitions as well as I should have.
AR:  Will it be a problem with your fiancé Nick if you kept in touch with Lane?
BH:  I don't know because I haven't talked to Nick yet, but I doubt it. Nick is really nice and likes everybody.
AR:  What could you have done differently to not be sitting in the jury house?
BH:  Competed harder! I needed to win the last HOH or POV. I believe if I had done that, I would have had a really great shot at winning the entire game.
AR:  You knew from Ragan there was a three person alliance, why would you trust any of them to take you to the final two?
BH:  I didn't trust any of them to take me to the final two. I knew I had to rely on myself.
AR:  Who do you hope joins you in the jury?
BH:  I hope Enzo joins me in the jury because I think he played the weakest game.
AR:  What do you think the reactions going to be when you walk in the jury house?
BH:  I am not looking forward to the reaction at all. I think it will be dramatic and over-the-top.
Do you think Brit still hasn't got a clue about her own game play or did she walk out of the house doing everything she could do?