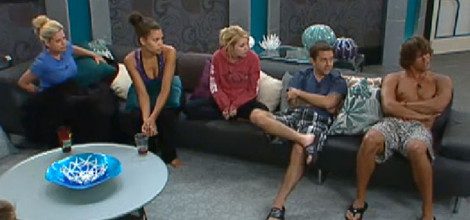 The drama may be over for the moment, but no worries if you missed it because you can rewind your Feeds using Flashback to see it all happen. The big fight took place just after 7PM BBT and went on for a half hour so there's lots of drama to watch. Even after that it's worthwhile to see how fast Rachel was pursued to drop her big plans and follow Kristen instead. Then there's even more fun after BB breaks out the alcohol. Crank up your live feeds and watch it all over just like it was live.
The wait is over Big Brother 12 fans! Drama has broken loose at full speed in the house tonight and it's awesome. Right now there's the very first "House Meeting" going on in the house. If you've never seen one of these meetings it's where they pull everyone together to air their grievances and find out who is lying and who is telling the truth. All they need now is a Festivus Pole and a feat of strength!
Read on for the Big Brother Spoilers and more drama!
It all started earlier this afternoon when Britney started telling Rachel that she was being deceived by Matt. Despite offering himself up for nomination Matt went on to tell the other HGs that he was shocked and angry to be put up as a renom this week. So those stories have worked their way back to Rachel and Brendon and now they're upset for being made the bad guys for taking Matt up on his offer. Things finally boiled over just before 7PM BBT (use Flashback) when Rachel and Ragan decided to call a House Meeting and figure this out.
Matt is scrambling hard to keep himself in the game as the house turns on him. His Brigade isn't doing a spectacular job of supporting him and Rachel is tearing in to him. Only Ragan is backing him up, but I don't know if it's winning them over. Are your live feeds on right now? If not, sign-up and starting watching right now! This is why the Big Brother Feeds were made!
Brendon and Rachel are really ripping Matt for this. Rachel is saying they need to get rid of liars early in the game so they can have a season of Big Brother where everyone likes each other and just plays the game fairly… Boo! Go away, Rachel! Go away! What is she thinking? Can we evict her this week? Please!
Does this fight even matter? Brendon says Matt is going to be evicted on Thursday, but let's break down the votes. There will be 9 votes so Matt would only need 5 to stay and won't he have votes from Ragan, Andrew, Lane, Hayden, and Enzo? That's all he needs, but it could even be more. What do you think?
After the fight Kristen and Hayden went to their room and agreed that Monet should still be the target. Rachel came in and Kristen convinced her that Monet needs to go. Way to stick to your guns, Rachel. Best part though was after Rachel's huge protest of being called a bully she tells Kristen that Kathy will vote however she tells her to.
Get ready for more action on the live feeds though because Big Brother just gave the HGs four bottles of wine and a lot of beer. Kudos on the timing, BB!
click images to enlarge