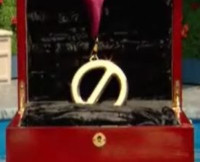 Tonight on Big Brother 11 we'll see what happened in the PoV competition and have confirmed to us who won the Power of Veto. If you've been following the spoilers then you already know who won!
The mystery surrounding the Big Brother 11 Pandora's Box twist continues and the rumors are mounting. Somehow I think most people will be disappointed when this turns out to be less exciting than it seems it would. After Grodner announced the Pandora's Box angle wasn't a "power" but rather a "HoH responsibility" most potential for a game changing event was drained for me. I'm hoping I'm wrong that as I could really use another shot of Big Brother drama to close the season!
Update: You can see the dollar amounts each HG won at Small Screen Scoop.
If you haven't been watching the feeds then you've been missing the real game and there's no way CBS is going to be able to show most of what's been done and said in the house. You can catch it all on the live feeds new Flashback feature which lets you jump to any day and any time in the season. Yeah, it's pretty awesome. Try it for free and then keep it for just 50 cents a day.
What's that? You don't have the free Big Brother Toolbar?? Get it now and stay connected with the latest news and discussions. It's free, fun, & easy:


Stay connected to Big Brother 11 with free updates by Email, RSS, and Twitter.