Big Brother 11: Week 8 PoV Competition Results – Spoilers
|
August 29, 2009 at 9:12 AM EDT
The special, midnight Power of Veto Competition is over in the Big Brother 11 house. To find out who won click "continue reading" for the spoilers…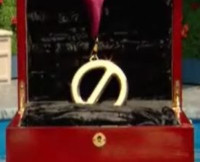 Michele is the winner in this week's Big Brother 11 Veto competition!
Michele will undoubtedly use the Veto and save herself. Forced to make a replacement nominee Kevin will most likely nominate Jordan, pitting her against Jeff for votes. Looks like Jeff is heading to the Jury House!
Jeff is taking this turn of events better than I thought he might, but jump on the live feeds and see for yourself what happens.
What do you think? Should the Veto be used? Who should Kevin nominate as a replacement? Natalie or Jeff?
You can also check in on the house and see what's happening right now on the live feeds and try it for free and join the rest of the Big Brother fans online.
SHARE YOUR THOUGHTS! LEAVE A COMMENT NOW:
Commenting Rules:
Keep the conversation civil and on topic. If your comment does not add to the conversation or is insulting to others, it will be removed. Debate intelligently. No ALL-CAPS.