The Power of Veto Ceremony is over in the Big Brother 11 house and fights are exploding right now on the live feeds! To find out if the PoV was used click "continue reading" for the spoilers…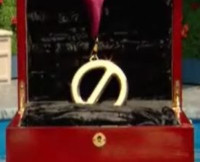 Michele, the winner of this week's PoV, has used the Veto power to save herself from eviction. Forced to then name a replacement nominee Kevin put Jordan on the chopping block.
Leading up to the ceremony there was a lot of frantic discussions over whether Michele should save Jeff with the PoV instead of herself and then vote out Jordan. It looks like she wisely decided against leaving herself on the block.
Come Thursday night either Jeff or Jordan will be heading to the Jury house or will they? We still don't know what's going on with the Big Brother 11 Pandora's Box twist, but keep your live feeds running because we'll know soon!
What do you think? Which of these two should be sent packing on Thursday's live eviction night: Jeff or Jordan? Share your thoughts below.
Be sure to sign-up for the free Big Brother email updates, register for the Big Brother Forum, follow us on Twitter, and grab the free Big Brother Toolbar.