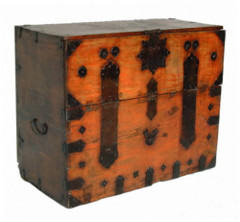 The mystery surrounding Big Brother 11 and Pandora's Box continues. On Friday the HGs were treated to a totally new event when Kevin discovered the secret room in his HoH room and found himself locked inside.
Meanwhile the other HGs had cash rain down on them in the backyard in a situation of complete confusion. Eventually Jeff found a key and rescued Kevin from his confinement which seemed to bring the events to a close. Or did it?
Since Friday's excitement we've had little more than speculation on behalf of the houseguests as they try and determine just what happened. Perhaps more importantly they are trying to guess what is still yet to happen as they await the flipside to their surprising downfall of cash.
Last night at the close of Big Brother we were again teased about what's yet to come with Pandora's Box, but so far all we know is one tidbit Allison Grodner, executive producer of Big Brother, gave to RealityBBQ:
"I'm gonna tease. There is a secret door that will weigh into the HOH. It's something we've had planned for a while. I wouldn't call it a power. It's just something that's been added to the HOH's (responsibility)."
Despite many on Team Jeff hoping this will be some sort of magical rescue power it sounds more like just a little twist that might not even impact the game at all. Could Jeff be rewarded for rescuing Kevin while the other Big Brother 11 HGs chose to line their pockets with cash? We'll have to wait to find out.
Be sure to have your live feeds up and running to be ready to catch the first news of what's happening and why. If Pandora's Box is going to impact the Veto process we'll have to hear about it before the Ceremony happens around 12:00pm BBT.
Keep checking back and we'll let you know as soon as something happens and we know more. Until then speculate on what you think it will mean for the game!