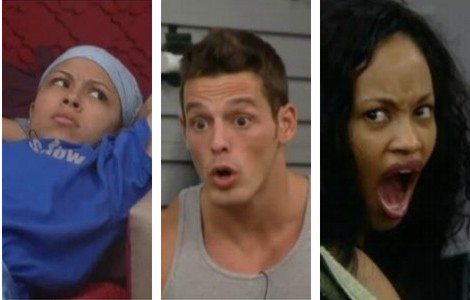 Chima has proven herself to be one of the loudest, most abrasive houseguests of this Big Brother season and tonight she is poised to take the crown.
In anticipation of the Coup D'Etat overruling her nomination decisions, Chima has made repeated threats around the house to this mysterious power holder and to the Big Brother 11 production team. Chima has threatened to let loose a tantrum that would make even the worst two-year old jealous. Her review of the Big Brother rule book indicates her careful attention to how far she can go and possible intention to toe the line of what she can and can not do.
As such, the current expectation and rumor stands that tonight's Big Brother 11 eviction will be taped in advanced. If this is true then I have no doubt that tonight will be the most exciting, dramatic night on the Big Brother Live Feeds.
If the live feeds flip to trivia early then we'll know the eviction proceedings and possible use of the Coup D'Etat is being pre-recorded. Once the feeds return I'm anticipating a battleground with Chima in full throttle mode, much as she did the night after the first eviction.
My plan is to stick close to the computer and watch it all unfold uncensored because there's no way CBS will be able to show this. It's going to be that good.
You definitely won't want to miss tonight on the live feeds. If you're new to the feeds then be sure to sign-up now and get ready with the Free Trial so you can see all the action and drama as it unfolds live and uncensored on Big Brother 11!
What do you think? Should Chima be allowed to disrupt production or is the best thing to pre-record the eviction and avoid a situation that can't be broadcast? Share your thoughts but keep it civil, you know, don't pull a Chima!
Update: Tonight's Big Brother 11 show will definitely be taped in advance. Big Brother has already informed the HGs of this and they are discussing it now on the live feeds. Oh boy, oh boy, this is going to be awesome! Are you ready?
Update 2: If you've got the Big Brother Toolbar add-on then you'll get the notification of tonight's results as soon as they're posted. It's free, so get that now!