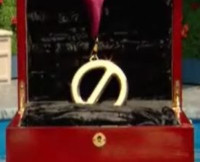 Earlier this week Michelle won the Power of Veto. At today's PoV ceremony she had the option to save either Dan or Steven, who were nominated last week by Jessie.
Michelle decided to not use the Power of Veto. Jessie's nominations stand. Either Dan or Steven will be evicted on Wednesday. Who do you think it will be?
While one of those two will be leaving for sure in a few days at least we'll still have the horny couple of Ollie and April to watch uncensored on the live feeds. These two allegedly were the first to break the Big Brother 10 sex seal in the spa room over the weekend.
Live Feeds discount: Save $2/month by ordering with "BB10E0722"