|
August 9, 2014 at 10:45 AM EST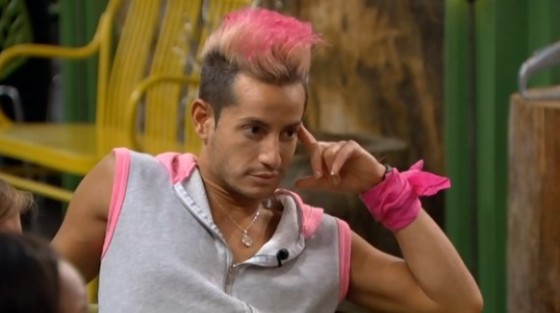 Frankie Grande decided last night was the right time to tell the other Big Brother 16 HGs his big secret. It was also the time that Big Brother After Dark was on. Oh, and he was being cornered as the house's main target. Perhaps he felt it was time to play his big card.
Frankie pulled the guys in to the Fire Room for the big reveal: "I have a famous sister!" Flashback to 10:00PM BBT (Get your Free Trial now) to watch as everyone comes together for the conference Frankie wants to hold.
The guys listen as Frankie tells them his sister is Ariana Grande and he is a "multimedia mogul" because of his YouTube channel. He plans to use the money, if he wins, for charity to build schools in Africa.
If Frankie thought this information was going to bowl everyone over then he misjudged. Caleb is pretty excited about it because he thinks Frankie will get him in the studio with Justin Bieber, but the other guys are very annoyed with Frankie.
366 Comments »
&nbsp