Big Brother HG Zach Rance is extending his fan favorite status to help raise funds for a local charity event this weekend in Florida where fans can attend for a photo and autographed pink hat.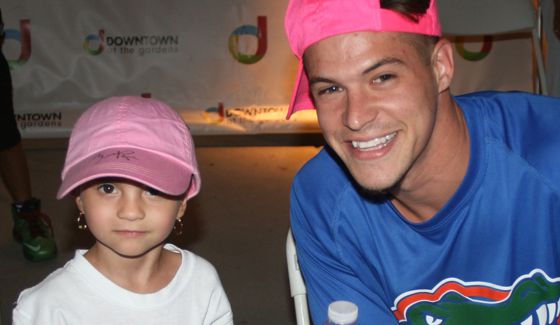 From 9:30AM until 12PM this Saturday, October 25th, Zach Rance fans can find him at the Palm Beach Gardens Soccer Fields (link to Google Maps) where he's turning out to support a local charity. The charity, Housel Family AML Fund, is raising funds for Samantha and Ashley Housel, twin four-year old girls battling Acute Myeloid Leukemia.
This will be Zach's second event to support the charity which has already raised over $30,000 in the the past week as they aim to reach $100,000. Supporters can get a photo with Zach plus an autographed pink for a donation to the cause. All of the money donated is going directly to the fund.
Visit their GoFundMe page & their Facebook page for more details & a way to donate (we did!) and check out these photos of Zach at last week's event with Samantha while Ashley is in ICU.
Update 2: Sounds like the event this weekend was a big success. Zach Rance's friend Brett Hammond tells us they raised another $2,000 for the charity fund which brings them up over $37,000 in less than three weeks. That's pretty awesome and a great thing to see from Zach and the folks running that.
click images to see full-size
If you haven't yet contributed, but would like to you can visit their GoFundMe page which sends all the donations right to the cause.
Update: More photos added from Saturday's event. Click images to see full-size views.

click images to see full-size
Image source: @HammondBrett1