After Big Brother 16 ended many of the season's Houseguests stuck around Los Angeles to take part in filming for two upcoming episodes of CBS's "The Bold & The Beautiful." Here is a preview of those special Halloween themed episodes before they air later this week.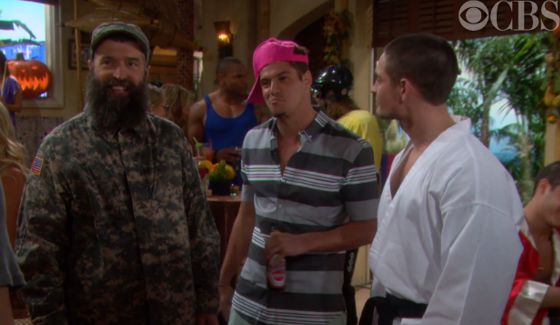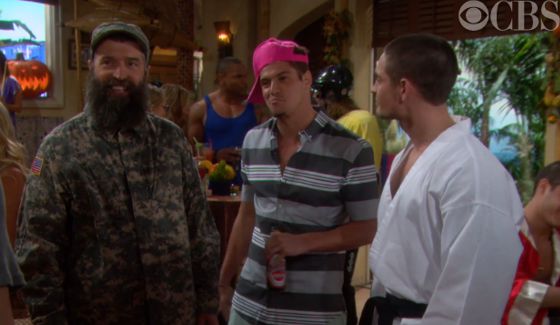 Half of the BB16 cast made the cut to appear on the show including the three top-voted HGs for America's Fav: Donny Thompson, Zach Rance, and Nicole Franzel. They were joined by Devin Shepherd, Caleb Reynolds, Hayden Voss, Amber Borzotra, and Cody Calafiore. This season wasn't alone though as Jeff, Jordan, Rachel, Brendon, and Elissa joined in on the fun too.
In the snapshots below you can find Donny, Zach, and Caleb for their scenes but back behind them there's even more HGs to find. I've spotted Cody over to the side as a boxer. There's Nicole in her Germitard and Hayden as a hockey player. Devin is dressed up as a dad (I'm kidding) and Elissa is there too. Over at the bar I see Brendon serving while Jeff and Jordan grab a few drinks. Rachel and Amber are probably in there somewhere, but I didn't spot them.
Update: New "behind the scenes" shots that are fun to see as Houseguests worked on their episodes.
Don't forget to watch this Thursday and Friday (October 30th & 31st) at 1:30-2PM ET & 12:30-1PM PT to check out all their scenes as we discover who might have the chops for a future in Hollywood.
click images to see full-size views
You can count on Zach dropping a Froot Loop Dingus line for his fans out there and lots of costume changes by Donny so that should be fun.
Image credit: CBS