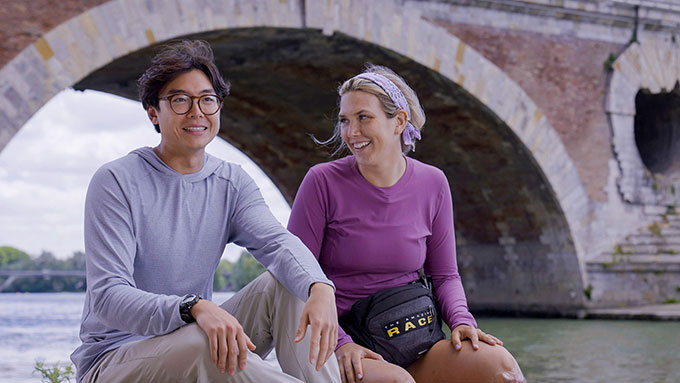 Big Brother couples have a history of going on to compete on The Amazing Race and doing quite well. And Big Brother 23 couple Derek Xiao and Claire Rehfuss are continuing that tradition on The Amazing Race 34.
Derek and Claire are just one leg away from becoming the second Big Brother couple to win The Amazing Race. The pair secured their spot in the season finale last week when they won the penultimate leg of the race. Their win in Iceland was their fourth win of the season.
Claire and Derek would join Jessica Graf and Cody Nickson as Big Brother houseguests who went on to become winners of The Amazing Race. Claire and Derek compete in the final leg and for the $1 million grand prize in Nashville. The finale episode airs this Wednesday at 9 PM on CBS and the entire season can be watched on Paramount Plus.
This season marks the fourth regular season that a Big Brother pair has competed on The Amazing Race. Big Brother 4 runner up Alison Erwin competed on the fifth season of The Amazing Race with Donny Patrick, her boyfriend at the time. They came in 10th place. BB11 and BB13's Jeff Shroeder and Jordan Lloyd competed on TAR16, finishing in seventh place. Rachel Reilly and Brendon Villegas from BB12 and BB13 competed on seasons 20 and 24 of TAR, finishing in third place both times. Big Brother 19 couple Jessica and Cody won the 30th season of The Amazing Race.
The Amazing Race 31 also featured Big Brother alumni (Janelle Pierizina and Britney Haynes, Rachel Reilly and Elissa Slater, and Nicole Franzel and Victor Arroyo) in a special all-reality stars season.
Claire and Derek have performed very well all season so the couple stands a very good chance at beating the other two couples that made it to the finale. Do you think Derek and Claire can win The Amazing Race 34?
GALLERY: Big Brother Couples Compete on The Amazing Race