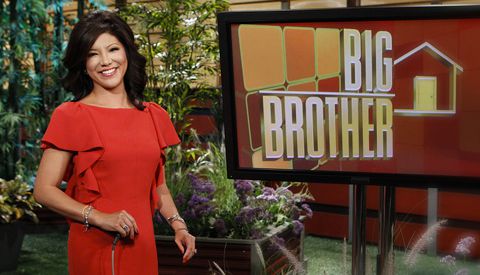 CBS has announced the Big Brother 15 premiere will arrive two weeks earlier than normal this summer. That's a huge change for the series, but the less examined part of that announcement was a switch in which nights the episodes would air. This shift in nights, while seemingly minor, should greatly improve this season of Big Brother and here's why.
Long ago we would watch Julie Chen and the Houseguests on Sundays, Tuesdays, and Thursdays which gave the perfect rhythm with typically one night on and one night off for a chance to discuss. The last few seasons we've instead been watching Sundays, Wednesdays, and Thursdays. This approach allowed little time for viewers to digest Wednesday night's broadcast Veto events ahead of Thursday's eviction. But if you think all these delays and subsequent rushes were bad for the Big Brother CBS viewers, well, they were even worse for the Live Feeds and especially the HGs.
Following each new HoH competition on Thursday night the HGs were hustled through nomination plans on Friday and a ceremony that night. The Veto competition was held on Saturday and the Veto ceremony on Monday. That left nothing to be done on most of Monday and all of Tuesday and Wednesday other than sit around, be bored, and await the inevitable eviction. Big Brother 15 is about to fix all of that.
CBS says BB15 episodes will buck the recent seasons' schedule and instead air on Sundays, Tuesdays, and Wednesdays. Moving the weekday broadcasts up a night means the HGs will have more time before a Friday nomination and less time after a Monday PoV ceremony if production keeps the in-house events on the same old schedule. Houseguests will get an extra day to fight, struggle, and be good hamsters filled with paranoia. Just the way we like them!
Clarification: I'm talking real-time events going on in the house and not time differences between episode broadcasts. Events in the house happen days before CBS airs them.
While the broadcast viewers might not notice as significant a change in the house dynamics, it should be a dramatic improvement for fans watching the Live Feeds which is of course where the real game exists and the die hard fans never miss.
What do you think about the Big Brother 15 schedule and its impact on the game?
We can't wait to share another season of fun with you when Big Brother 15 premieres on June 26, 2013. Be sure to join us on Facebook, Twitter, and Email to get all the latest BB news and updates.