We officially have our Big Brother Over The Top final 3! Either Jason, Kryssie or Morgan will soon become the first winner of BBOTT.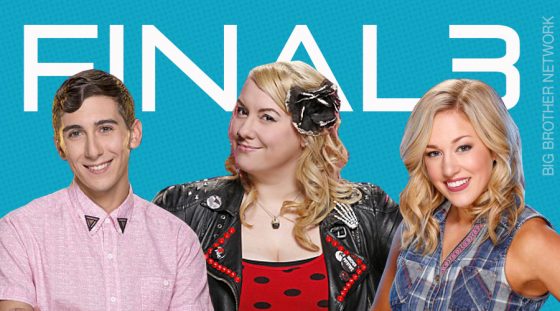 For some, this might not be the most ideal or deserving final 3, but like any season of Big Brother, if you make it to the end, you've done something right along the way. So it's time once again to take a look at the finalists and see who should actually win this thing. We'll be looking at competition wins, strategy and moves — all the usual Big Brother stuff it takes to capture that prize money at the end. And please keep in mind, we'll only be looking at game play and fan influence. We will not be considering who talked the most shit or who wiped boogers on whose belongings.
Since  Jason was the first person in the final 3, we'll go ahead and start with him.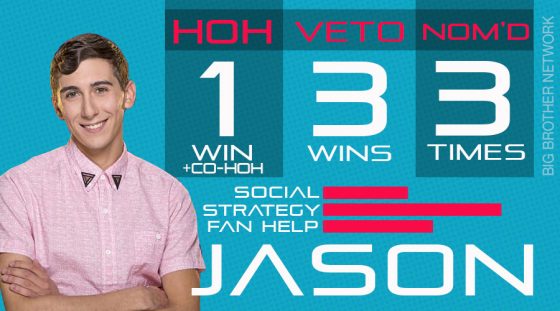 Jason Roy
As you all know, Jason was voted into the BBOTT house by America. He's the superfan-turned-vet who first played in Season 17. He came into the game with a huge target on his back and was officially the house's first target. But after a veto win and some maneuvering, Jason got the target off his back for awhile. During those idle weeks, Jason developed his core alliance all while keeping himself tied to the other side by way of Scott and Alex.
Everyone knew it was a huge risk to keep Jason around, but they did it anyway. And every time Jason was sure to go home, he stepped up and saved himself or America reached out a helping hand. And that brings me to my next point. Did America help Jason get to the end? Sort of. But Jason got no more help than anyone else in the game. The America's Vote outcomes were pretty divided among both sides of the house. Alex, Shelby and Morgan got as much help as Jason, Kryssie and Justin did. So there's little to fault Jason with there.
I think Jason has played a pretty solid game. He may have crossed the line a few times when it comes to good sportsmanship, but this is the world we live in now. Look around on social media and you'll, see that our world isn't the kindest at the moment. I'm not going to fault Jason for wiping a booger on someone's belongings. Should he have done that? No way. Should that mean he loses BBOTT? Absolutely not.
Jason's Competition wins: 3 vetoes, 1 HOH (plus America's co-HOH)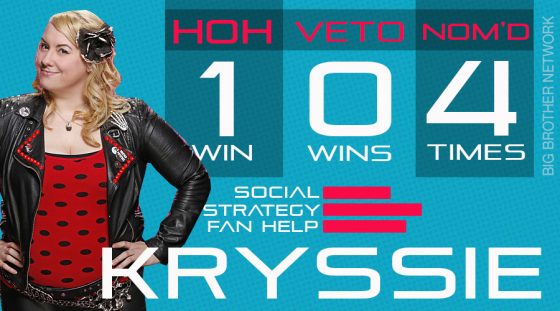 Kryssie Ridolfi
It's hard to think about anything other than the veto competition that Kryssie gave up on. That's all most people can think of when they ask themselves if Kryssie deserves to be in the final 3, much less win. I get that. It wasn't what most of us look for in a BB player. And then there's the whole insisting on getting Jason to the end thing.
Loyalty is awesome, but surely she knows she can't beat Jason, right? Part of me thinks she knows he'd end up in the end anyway and she just didn't want to come off as a disloyal person. Of course that's neither here nor there, though, because she had no say and Jason ended up taking her to the end.
The best talking points for Kryssie would be the early target she shook off and aligning with the right people at the right times. Kryssie was definitely an early target as Scott wanted her out badly. But she managed to shrink that target and look where she is now. Another strong point in her game is how she worked people when she needed to. She actually had Morgan and Shelby pretty convinced she was going to work with them over her season-long allies. I'm not sure that really helped Kryssie much, but it was at least some pretty solid game play.
Kryssie's Competition wins: 1 HOH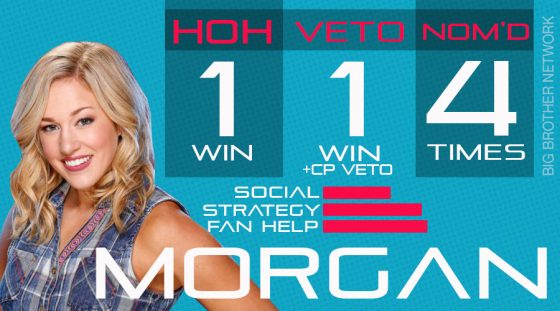 Morgan Willett
I definitely never thought I'd be writing about Morgan at this point in the game, but here we are. And if we're being completely honest here, Morgan is the last one from her alliance, not because she has been that good at the game, but because she was the weakest of her alliance. Alex, Shelby, and even Whitney, outplayed her all season and she just happened to be the one left over.
That being said, Morgan won a couple of times when she had to. Her latest win was what got her in the final 3, but she was up against an asthmatic Justin who never paid attention to anything that happened in the game all season, so there was no way he was winning that competition — not to slight her win or anything, because she earned her spot in the finale. And that is more than you can say about Kryssie who was hand-picked by Jason for her spot.
It gets a little murky here when I try to compare Morgan and Kryssie. Both were kind of the same player in their respective alliances. Both won an HOH and both won a Care Package ONLY to help out a better-liked alliance member. Morgan saved herself from the block while Kryssie had slightly better strategy. So Morgan and Kryssie sort of tie in this analysis.
Morgan's Competition wins: 1 HOH, 1 veto, 1 final 3 comp (plus America's CP veto)
Overall Analysis
First of all, let me explain the scorecards since that seems to be what readers always get hung up on (and by hung up on I mean angry). This season I ditched the "control" portion since America had more control than anyone. I replaced it with Fan Help, which is America's help.
This season's social games sucked. But these guys didn't really have to worry about it as much as there is no jury and no jury vote at the end. Almost no one branched out from their alliances this season. And while that made for a fantastically divided house, it wasn't exactly smart. Jason edges out the other two here as he was the only one from an alliance smart enough to work alliances on the other side earlier in the game. Justin had Whitney, but that was barely an alliance. And we know Kryssie never spoke to the other side until the end of the game, and the same can be said for Morgan.
As, for strategy, Jason clearly wins on that one. He never stopped playing this season. He always had a plan for what was happening in the moment and for later down the road. He knew which of his alliance members were detrimental to his game and which would help him at the end. Kryssie didn't have much going on strategically and sort of followed Jason and Danielle's leads. The same can be said for Morgan, as she followed Alex and Shelby's leads.
Now we look at Fan Help. This is where you'd want to have a lower score on your BB resume. But since this was a huge part of the BBOTT format, we can't really fault the HGs too much here. Sure, someone getting to the end with no help from America would be a huge point to make. But that doesn't really apply here. From the start, Jason had an unfair advantage with his built-in fanbase, but it didn't take long for Alex and Shelby to pass him up in popularity.
In the end, America's involvement was pretty even (though leaned a little more toward Shelby), but Jason did benefit slightly more than the other two in the final 3. Kryssie's Care Package kept him safe, as did his Co-HOH. Morgan got the veto handed to her by America, which was basically to save Shelby, but she benefited from it as well. Kryssie seemingly benefited the least from fan help.
So now that I've established that the Fan Help portion doesn't really mean much, let's tie this up.
It's clear based on the scorecards and the above breakdowns that Jason is the clear winner here. He played the best game, he won the most competitions and he made the smartest moves thorough the game. And he did all of that with a HUGE target on his back. America might have stepped in and gave him a hand a couple of times, but you did the same for Morgan's side of the house. And there was a point in the game where Jason was no longer the fan-favorite (Alex and Shelby took the reigns) and America wasn't going to save him. And that's when the others missed their opportunity.
So in the end, I'd give the win to Jason. And even though there should be no actual reason why Jason wouldn't win, I guess Morgan would be my next choice. But just barely.