Plastic-turned -Ball Smasher-turned-Misfit Whitney Hogg said goodbye to the Big Brother Over the Top house during this week's double eviction, and before she headed back home to Kentucky, she answered some questions for us.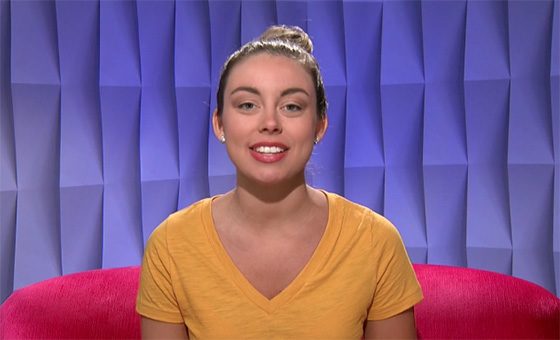 Who does she thinks deserves to win BBOTT and which alliance was more fun to be a part of? Read on to find out.
Big Brother Network: Were you going to work with the Late Night Jamboree after Alex's eviction or were you going back to Shelby and Morgan?
Whitney Hogg: I kind of felt like the Ball Smasher's bridge had been burned. So I had no intentions of going back and trying to work with them. But I don't think they would have come after me.
BBN: How shocked were you when you found out Alex and Morgan are sisters?
Whitney Hogg: It is mind-blowing. For them to be sisters … honestly if I had known that they were sisters, I would not have gotten into a four-person alliance with them, because they were always going to choose each other over myself. And that's why the cards fell the way they did … now it all makes a lot of sense. It hurt my game tremendously that they were sisters and I was in an alliance with them.
BBN: Why did you decide to switch alliances, knowing that you were likely going to be as low on that totem pole as the Ball Smasher's totem pole?
Whitney Hogg: I felt like I was backed into a corner and I was almost forced to do so. When Scott was put up as America's nominee, and I was sitting up there with him, I think that I would have went home Scott's week if I had not made the moves that I did. Danielle was my worst case scenario to win Head of Household. I knew I was going to go up. For me to work with her and talk her into using the veto on myself to bring me down, I think was a huge move and a great move. I think that Scott could have turned it around and got Alex to vote me out instead of him. I knew that I was in trouble. So that's why I made the move that I did. Unfortunately it was to turn on the Ball Smashers but that's only because I felt like Alex turned on me first.
BBN: You were the only person in the game to truly sit on both sides of house. So which side was more fun to hang out with?
Whitney Hogg: (laughs) Definitely the Late Night Jamboree. They are crazy. They are hilarious. They are not afraid to say anything to anyone. The Late Night Jamboree definitely has all the personality in the house. They are so much fun to hang out with. They kept me entertained. There were points when I was with them that my stomach was hurting from laughing.
BBN: A lot of things were said and done in the house, but Danielle's sticking her tongue out at Monte seemed to bother you more than anything. What was that all about?
Whitney Hogg: The one thing that has always irked me — and it takes a lot because I'm not a person to get mad at every little thing — but the one thing that really gets under my skin is when I feel like people are being disrespectful. So when Danielle stuck her tongue out at Monte, it honestly just rubbed me in such a bad way because I felt like she was being so unsportsmanlike. So her doing that to Monte really got under my skin. I was vocal about it and we were able to resolve it. I don't know why something that little would bother me so much, but I just felt like it was very disrespectful to Monte, herself and everyone playing the game.
BBN: Essentially, you were evicted because of the Care Package. Normally, in Big Brother a veto is used to save only one person, not two. Do you think it was an unfair Care Package?
Whitney Hogg: I do think that it was very unfair. I didn't have a chance to fight for myself. I definitely felt like it was an unfair advantage.
BBN: But what about the fact that it was essentially a veto that was able to save two people?
Whitney Hogg: I thought that it was weird that they used it as a veto. I kind of expected a Care Package to be a safety thing where you were safe and you get to choose one friend who is safe. So I felt like just the way that it was worded and presented that it was more unfair than it seemed to be, because if it was just a safety and a safety to one other person then it would have made a lot more sense. But for it to involve the veto, which is your only chance to get yourself off the block, I think is what made it seem so unfair.
BBN: Why didn't you campaign when you knew that you or Justin were going home?
Whitney Hogg: At that point — after I knew what the Care Package that Morgan had received meant — there was no reason for me to try to get her to use the veto on myself because Shelby would have gone up and would have gone home. I didn't campaign because I thought that they were ready to make a big move, and in my eyes I thought that they saw Justin as a lot bigger threat than me. So in the back of my mind I did think that Justin was probably going to go home. I kind of felt like it was a lost cause, and no matter what I said they were going to do whatever was best for their game. Also, I'm not going to throw Justin under the bus. We were both pretty good players in the game so I was just going to let the house decide.
BBN: Assuming you're going to say Justin, who other than Justin would you like to see win Big Brother Over The Top?
Whitney Hogg: I would like to see Jason win the game. If Jason ends up sitting on that couch at the end of this season, he will definitely have my vote. Only because he is playing such a good game. He has yet to get any blood on his hands. Jason wins when he needs to win and I think he's letting all the other people on his side of the house to get blood on their hands. But he's kind of being the mastermind behind everything. I think that he has a very good chance to make it to the end and he's who I'm rooting for.
BBN: Who is Jason's biggest threat at the end?
Whitney Hogg: I think Jason's biggest competitor would be Justin.
BBN: Thank you, Whitney.
So there you have it. Whitney seems to prefer the Jamboree to the Ball Smashers and she definitely wouldn't have worked with the girls had she known Morgan and Alex were sisters. Sounds like Whitney had a good grasp on the game and may have been a bigger threat than most of the house realized.