The Big Brother Over The Top houseguests spent half the day waiting on Shelby and Jason to re-do the Head of Household competition and the other half of the day in shock over the surprising U.S. election results Julie revealed to them. Jason and Shelby finally got to the HOH competition and it didn't take long for us to find out who the target is this week.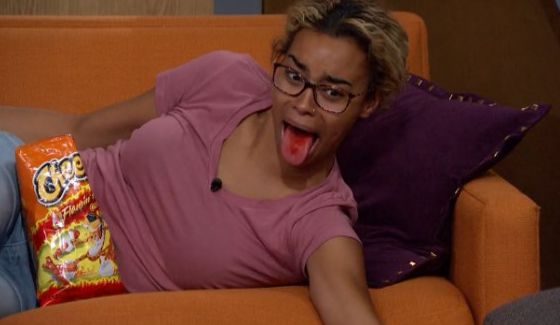 If you've got the Live Feeds (Free Trial) then you can watch all of these moments with the Flashback feature to go back and watch those important conversations or funny scenes you may have missed.
Big Brother OTT Live Feed Highlights – Thursday, November 10, 2016:
10:00 AM BBT – HGs get their wake up call. No one is stirring.

10:30 AM BBT – Lights still out and HGs asleep.

10:40 AM BBT – HGs up and moving.

11:00 AM BBT – Vertical life was short lived. HGs crumpled up and napping lightly again.

12:00 PM BBT – Nap Day continues for most of the HGs.

1:30 PM BBT – Danielle receives her HoH basket complete with a letter from her sister.

1:45 PM BBT – Kryssie and Jason discussing the HoH comp and how only Shelby had problems with the mirrors.

1:50 PM BBT – HGs discussing the competition and how Justin was woken up to compete at 4AM. Morgan notes that seems rather unfair to make someone do that.

2:00 PM BBT – BB tries to shut down their talks about the comp by telling HGs to stop talking about production.

2:15 PM BBT – Danielle and Kryssie are concerned that Jason is too worked up today to focus and perform well in the HoH rematch.

2:20 PM BBT – Morgan wonders if Shelby has a better chance of getting farther and maybe she should stay over Morgan. Shelby and Morgan agree to save themselves if they win the Veto this week.

2:30 PM BBT – Jason continues to discuss the HoH comp and feels frustrated with the rematch.

4:00 PM BBT – Julie arrives via the living room screen. Everyone but Justin gathers. He's in the WC and arrives five mins late as Julie decides to go on without them.

4:10 PM BBT – Julie leaves the HGs in shock over the election results that were revealed.

4:20 PM BBT – HGs still hanging around in the living room discussing the news from Julie.

4:25 PM BBT – Shelby says if she'd have known Monte was a Trump supporter she wouldn't have aligned with him.

4:40 PM BBT – HGs still hanging out together, talking about the election and other small talk.

5:21 PM BBT – Shelby tells Morgan if she wins HOH she might try to work something out with Justin. She says she can tell him she won't bother him this week if he does what she wants this week by helping them get Danielle out this week. They say they can remind him that if Danielle goes then he will get the last Care Package.

5:52 PM BBT – Jason is strategizing with Kryssie on how to efficiently complete the HOH do-over. They're using Sour Patch Kids and Swedish Fish to work out scenarios. Danielle asks so they told you it's going to be the same comp? Jason says he can neither confirm nor deny, but shook his head yes. He tells them that he talked to someone "very official" in the DR (likely Grodner or Meehan) and they told him they know he's going through it but they assured him of some things and he feels better now.

5:54 PM BBT – Jason says the DR confirmed to him that there is an America's nominee this week.

6:24 PM BBT – Shelby and Jason's HOH re-do is starting. Shelby is up first.

6:28 PM BBT – Shelby finishes the competition.

6:40 PM BBT – Jason is up for his HOH run.

6:52 PM BBT – Jason finishes his laser puzzle. He took longer than Shelby, indicating she won the HOH this time.

6:55 PM BBT – Jason is upset that the puzzle was harder this time. He realizes he probably lost.

7:34 PM BBT – HGs go outside to find out who won HOH. Shelby's time is 4:03 while Jason's is 9:52. Shelby is the new HOH.

7:54 PM BBT – Shelby and Morgan want Danielle out this week so they're talking about how to get Justin on board with that plan.

8:15 PM BBT – Justin tells Kryssie that he fears Danielle would vote him out and says with him gone then Danielle gets the CP.

8:30 PM BBT – HGs all hanging out together, talking and joking. Everyone agrees they're going to bed early tonight. Morgan says it's her last night ever as a Have-Not.

9:15 PM BBT – Everyone is still just hanging out. Talk is back on Trump winning the election. Morgan wonders if they could have done absentee ballots. Kryssie says yes because Neeley did.

9:22 PM BBT – They're all still waiting around for Shelby's DR room. She says they're probably trying to find someone to write a letter for her.

10:30 PM BBT – Shelby finally called to the DR to get her HOH room.

10:37 PM BBT – HGs are up to the HOH for Shelby's reveal.

10:55 PM BBT – Shelby and Morgan discussing that if they get Danielle out this week then Morgan has a better chance going against Jason, Kryssie, and Justin in the next HoH comp.

11:15 PM BBT – Morgan is off to bed in the HN room.

12:30 AM BBT – LNJ hanging out having a good time in the kitchen. Shelby alone in the HoH room listening to music.

1:15 AM BBT – LNJ is moving around and hanging out. Shelby has turned out the lights.

2:20 AM BBT – LNJ is turning in for the night.
What a couple of nights it's been as the LNJ and remaining Smashers battled back and forth while Shelby ended up on top with the HoH rematch. She's won herself safety for the week and is planning with Morgan how to get them both through the week and their target Danielle out the door.
You can watch all of these Big Brother events using the archives Flashback, the DVR-like feature of this year's Live Feeds which means it's always live, even when you missed it! Sign-up now to get the free trial to watch it all live & uncensored.

click images to see full-size views