Alex Willett came in to the Big Brother Over The Top season with a huge advantage and possible anchor with the secret sisters twist, but it worked out for this Houseguest after never being discovered. Now on the outside of the house we had the chance to talk with Alex about her experience on the first ever BBOTT season.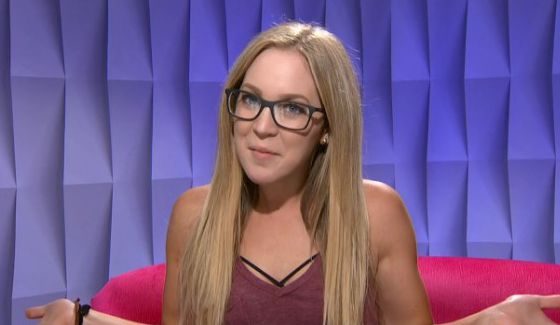 Alex's game with fans took an interesting arc as she rode high as a fan favorite in our own popularity polls and won the Safety Servant ACP when she was in huge danger. Then only two weeks later fans turned on her sending her to the Block and helping vote her out the door. So what happened there? And what about not splitting up with her sister to work both sides of the house? We discussed all this and more.
Big Brother Network (BBN): You ended up earning not only America's Nom, but America's VTE just 2 weeks after they voted to give you the Safety ACP that likely kept you in the game that week. What do you think happened to change your position with the fans so quickly?
Alex Willett: I've got through this in my head a lot. Part of me thinks that America just ended up hating me. Part of me thinks working with Scott, who they clearly didn't like, maybe did it. Part of me thinks I was trying to protect my sister by having to throw Whitney under the bus and maybe Whitney was a huge fan favorite and they didn't like that I had to do that. I'm not quite sure, but I'm very anxious to find out when I get out of here.
BBN: What happened with that secret 4-person alliance idea between you, Scott, Jason, and Justin? It never took off after looking like something with potential.
Alex: Working with Jason is like making a deal with the devil, you never quite know if it's going to fall through or if it's going to happen. Justin was kind of a sketchy player as he's not really invested in the game. Then anytime you're trying to work with both Jason and Scott, it's just kind of a mess. In hindsight, I should have just stuck with the Ball Smashers all the way and really try to reel Whitney back in so she didn't flip.
BBN: You and Morgan ended up working the same side of the house. What happened to splitting up and working both sides instead?
Alex: Yes! That was the original goal coming in to the house. I was going to work one side and she was going to go to the other side. At the end of the day, the personalities that live in that house were just so, I can't even put in to words how those personalities were. It just was not possible for one of us to work with the other side of the house. It was not going to happen. So yeah, we ended up on the same side and working together. I must say, we got pretty far together. I'm proud.
BBN: In the case that both Shelby and Morgan are evicted and not make the F3, which Houseguest from the other side do you most want to see win BBOTT?
Alex: I don't think Justin or Kryssie even know much about the game. I do not like Danielle at all. So Jason. I think Jason is kind of the main person who took me out & I'd like to see him win this game.
BBN: Thank you Alex.
I was sorry to see Alex evicted as I enjoyed the strategy of her game and she often did it well, but as she admitted later in our conference call, she played hard early on and that helped paint a target of strength and leadership in the group. But if there's ever a chance to come back for AS2, Alex says for Big Brother to call her!