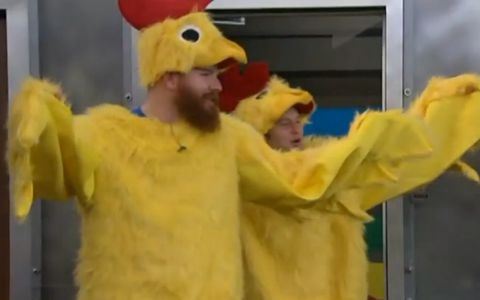 As part of the latest BB15 HoH competition the HGs were fighting not only for the power to pick the nominations but also to avoid a punishment.
The last place players, those with the fewest eggs in their basket at the end, would be stuck with either a chicken or bunny suit. Viewers voted live and the chicken suit won out, but now that we know who got the suits I'm kinda wishing they had been bunnies!
Spencer and Judd came in last place and after a trip to the DR they returned to show off their new feathers. Everyone loved their costumes, well, except for the guys wearing it!
It'll just be for two short days so enjoy it while you can. Spencer has already been busy making chicken jokes and I'd guess Judd will get over the embarrassment soon enough to have some fun with it. At least neither is alone in the situation!
Which HGs would you have wanted to see wearing the chicken suits?
click images to see full-size