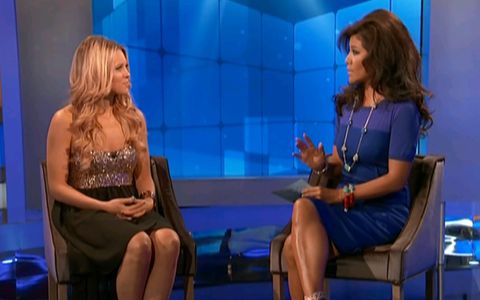 Aaryn Gries became the fourth member of the Big Brother 15 Jury last night when she was evicted in a 5-0 vote. Following her eviction Aaryn sat with Big Brother host Julie Chen for the customary interview, but the interview was anything but ordinary.
Confronted by statements Aaryn made in the house, Aaryn denied remembering those things being said or that any of it was said with malice or ill intent. When Julie asked how she would respond to accusations of racism Aaryn had this to say:
"Being Southern, it's a stereotype. I have said somethings that have been taken completely out of context and wrong and I do not mean to ever come off racist and that's not me and I apologize to anyone that I've offended for that."
When offered a chance for her final thoughts Aaryn blamed the situation on a misunderstanding of cultural differences:
"I honestly, I feel horrible. I feel like in Texas, we say things that are sometimes we joke and don't mean it. I really feel bad that this is how it's being seen and how I've come across to people.

I don't want to seem like that person. I really do respect everyone in this game although we've had some really hard times because we're fighting for our lives in this game."
Julie closes by telling Aaryn that she hopes she'll find a new perspective on things once she goes home and sees the footage for herself.
In online comments we reviewed some viewers felt Julie Chen and the studio audience went too far while others were glad CBS and Julie took the time to address the issue. How do you feel about Aaryn's exit interview and the things that were said?
Aaryn is now headed to the Jury house and will have no additional interviews until after the season finale next month. She will not be aware of the real world results of her actions such as losing her modeling contract until after the show has ended.
click images to see full-size
If you missed the interview on last night's Big Brother or want to see it again then watch the video below. Note that CBS isn't pulling any punches per the official video's title.
Julie Chen interviews Aaryn Gries: