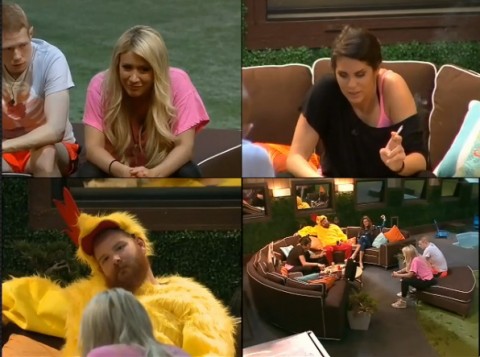 Aaryn is gone and GinaMarie holds the Big Brother 15 Head of Household power, so it didn't take long for Amanda to start telling GinaMarie what to do with her HOH this week. But GinaMarie isn't having it. She seems pretty solid with her new alliance with Andy, Judd and Spencer.
Read about those moments and others on our Live Feed highlights below. And remember to sign-up now for the Big Brother Feeds so you can watch any of these moments by using the Flashback archive feature.
Big Brother 15 Live Feed Highlights –  Thursday, Aug. 29, 2013
7:33 PM BBT – Feeds finally return following the live episode. GinaMarie has won Head of  Household. We immediately get Amanda telling GinaMarie to put up Elissa. She tells GM to make Aaryn proud by being the one to evict Elissa.

7:36 PM BBT – Judd and Elissa talking about keeping GM in their pockets and not letting her be alone with McCrae and Amanda.

7:38 PM BBT – Andy is already worrying about Elissa next week. He's not even focused on this week. He seems to be second-guessing targeting McCrae and Amanda.

7:43 PM BBT – Amanda tells McCrae she will be "up her ass," talking about GinaMarie. She plans to work GM until she's sure she's going to nominate Elissa.

7:44 PM BBT – GinaMarie, Judd, Spencer and Andy celebrating GM's win in the storage room. GM is laughing to them telling them Amanda thinks she's putting Elissa up but she's really putting her and McCrae up.

7:48 PM BBT – Elissa congratulating GM on her win and told her she did not stop praying she'd win. Elissa has done a good job of getting GM on her side.

7:50 PM BBT – Sounds like Spencer and Judd did the worst in the competition so they have to wear chicken suits.

7:52 PM BBT – Amanda doesn't seem happy with the question Julie asked her. She says she knows they're portraying her like a villain now. She talks about this for awhile. She's mad they're making her look like a bully and Elissa look like an angel.

8:05 PM BBT – McCrae says he's scared about this week.

8:10 PM BBT – Amanda tells Spencer she thinks GM will put up Judd and Elissa.

8:12 PM BBT – GinaMarie tells Elissa that she is 100 percent nominating McCrae and Amanda and contrary to what Amanda thinks, THAT is actually what Aaryn wanted her to do, not nominate Elissa.

8:20 PM BBT – Judd tells GM they have four votes against McCranda and that she won't regret putting them up.

8:23 PM BBT – Amanda asks Andy if he knows who GM is putting up. He says Elissa is the only name he is heard. And then he tells McCrae he's afraid one of them might go up. Andy will end up caving.

8:48 PM BBT – Amanda telling GM to put up Spencer or Judd next to Elissa. And she says do not put her or McCrae up as initial noms. She tells GM if she leaves a lot of people will be pissed. She then offers herself as a replacement pawn if Judd or Elissa wins veto.

9:00 PM BBT – Amanda is speculating there will be a double eviction next week. She tells GM they have to use that chance to get Elissa and Judd out.

9:01 PM BBT – When Amanda leaves the room GM laughs and looks at the camera and says "she's going up."

9:10 PM BBT – Amanda tells Judd that Aaryn said she really liked him. They talk about the possibility of them dating.

9:46 PM BBT – Spencer and Judd come out of the Diary Room in their chicken suits. They start doing the chicken dance and all the others are laughing.

10:10 PM BBT – HGs got alcohol. Judd tries to trade McCrae some beer for cigarettes. Everyone accuses Judd of hiding a beer for himself.

10:35 PM BBT – Amanda tells McCrae and Andy to not let GinaMarie talk to Judd or Elissa and to stay on her at all times.

10:50 PM BBT – Andy, Spencer, Amanda and Elissa are having a normal conversation and then Amanda has an instant mood swing and starts attacking Elissa and hitting below the belt.

10:55 PM BBT – Andy, Spencer, & Elissa all leave Amanda sitting there by herself. McCrae comes over and whispers that she needs to calm down. Amanda starts yelling that Elissa is a c-word. McCrae shouts back to Amanda, "will you chill out?!"

11:25 PM BBT – GinaMarie gets to reveal her HOH room.

12:00 AM BBT – Amanda trying to get in GM's ear. Tells GM that Elissa made her cry. GM seems unimpressed.

12:30 AM BBT – Andy and Judd are excited that The Exterminators will be safe this week.

12:35 AM BBT – Amanda, taking a break from following GM, complains that Elissa is following GM.

12:40 AM BBT – Judd and Spencer say they feel totally confident with GM in power. Judd tells Spencer that he wants McCrae out before Amanda. Spencer wants Amanda gone.

1:00 AM BBT – Amanda goes after Elissa. Elissa keeps walking away and ignoring her.

1:10 AM BBT – Amanda complaining that Elissa was torturing Aaryn all season.

1:30 AM BBT – GM tells Judd that she isn't buying Amanda's complaining. She says she knows Amanda has been the one causing trouble. Andy comes in and reminds GM not to fall for "Amanda's BS."

2:00 AM BBT – GM says she wants McCrae gone this week.

2:00 AM BBT – Downstairs, Amanda warns McCrae that he's going to go up. He agrees.

2:30 AM BBT – HGs find a giant cockroach in the backyard.

2:35 AM BBT – McCranda talking to GM about Elissa. GM playing it up and telling them what they want to hear.

2:40 AM BBT – Now McCranda expect Spencer and Elissa to be the nominees. Oh, this is going to be good. They wish GM would put up Judd.

3:20 AM BBT – Amanda confident that GM would break a tie to keep her over Spencer. McCranda excitedly looking forward to Elissa being gone next week.

3:30 AM BBT – McCrae goes off on Elissa. They're very focused on Elissa in their discussion.

4:00 AM BBT – HGs all in bed and resting up for a very exciting Friday ahead of them.
It sounds like GM will put up McCrae and Amanda which will mean some explosive live feeds. So get rested up, things are about to get even more crazy than they have been.
You can watch all of these Big Brother 15 events using the archives flashback, the DVR-like feature of this year's Live Feeds which means it's always live, even when you missed it! Sign-up now to get the free trial to watch it all live & uncensored.
click images to see full-size