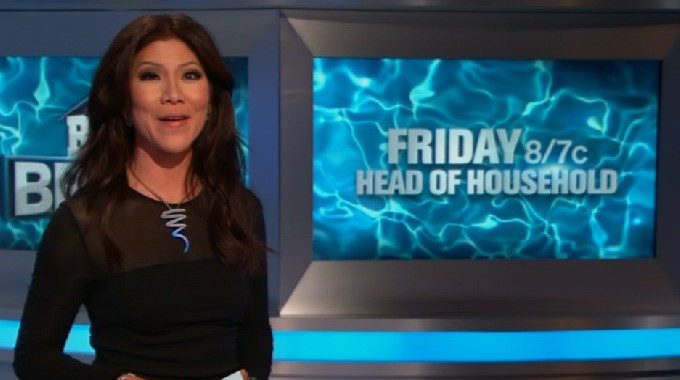 Big Brother 19 is back tonight on CBS and CBS All Access (8/7c) but this may not be nearly as exciting as Julie Chen suggested at the end of last night's live eviction. The Final 3 have been settled and they're already on their way to the F2, but I don't think we'll be getting much of that action in this second to last episode of the season.
In past years our final Sunday show has been the throwaway "memory lane" event as the F3 enjoys a fancy brunch and reflects on the season behind them. But hey didn't we just do that four weeks ago? Why yes we did. But with Sunday on CBS being taken over by the Emmys this week they've shifted this episode up to today. I still think that's exactly what we'll get tonight again with more "hey, do you remember that thing that happened last week?!"
Julie Chen mentioned we'd see the start of the Final HoH's Round 1 competition and what that most likely means is quite literally we'll see its start and that's it. Last year was the first year I can remember in more than a decade of Big Brother where we were denied seeing the Round 1 endurance comp on the Feeds, then CBS teased us with just a minute of the challenge before saving the rest of its edited version for the finale show. Well guess what happened again last night?
Just like last year we were denied the endurance battle on the Feeds overnight, but you can read our spoilers on who won Round 1 of the Final HoH. Since CBS seems to think we'll skip the finale episode if we see too much of Round 1 before then I'm guessing we'll again only get a short glimpse.
We'll be watching tonight's episode because, well we kinda have to!, but it might be more of a DVR-now-watch-later destined episode just so you're fully warned. Either way we'll do a recap and have the details for you later tonight. The real action lies ahead with the season finale on Wednesday, September 20th at 8/7c with a two-hour event along with the final spoilers of the season coming up with the second round of the Final HoH competition and we're expecting that news this Saturday.
Download our Big Brother App, join us on Facebook & Twitter, and get our Email Updates for more!