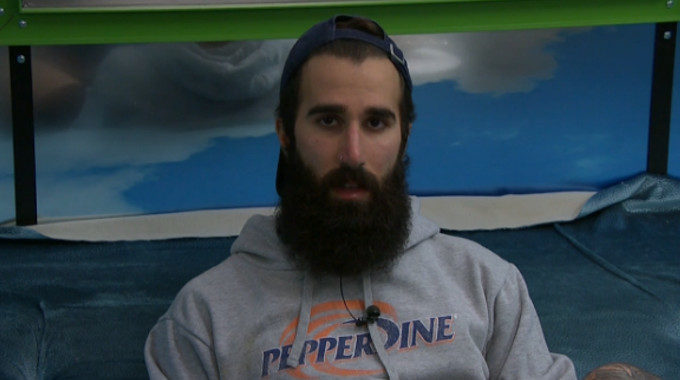 Last night on Big Brother 19 we watched as Paul Abrahamian secure himself a spot in the F3 and move one step closer to a return to the F2. But did he just make a big mistake in the process? In a late night camtalk session Paul revealed his expectations for the F3 to F2 transition and they don't match up with the reality of the game right now.
Flashback to 1:59 AM BBT 9/5 Cams 3/4 on your Live Feeds. Get the Free Trial now to watch.
The Round 1 Final HoH comp ended just a bit ago, Paul won that endurance battle, and the Houseguests are still coming down from the competition. Paul steps in to the Lounge for a quick camtalk session where he reveals his perception of the game right now:
"I'm one competition away from potentially winning. I've been telling you guys my game plan the entire season… It worked! I told you my perfect Final 3. My perfect final scenario and I'm in it. I just need Josh to win this next comp because then I secure myself a spot in Final 2. In that last comp, if I for some chance lose he's still going to pull me up."
*Insert record scratch sound effect here.* "Hold that thought," Paul. This does not match up with Josh's secret, "don't tell Paul" plan. Josh knows Paul is his biggest threat to winning Big Brother and he's been kicking the can on dealing with it, but given the chance Josh will evict Paul.
Josh has explained that he wants to go to the F2 with Christmas, not Paul. He knows that Paul has been setting him and Christmas up, though him especially, as the fall guys for all Paul's dirty work so if Josh ends up in F2 against Paul he expects to lose to him. Josh might be a "meatball" but I think he's right to fear a face off against Paul before the Jury.
So where did Paul go wrong? Backing things up one round we saw Kevin out the door last night after Paul won HoH and Veto then left his nominations the same. Had Paul instead saved Kevin with the Veto and convinced him to evict Josh then Paul could be in a much more secure spot right now against two lesser challengers.
That's not to say I don't think Paul would have the edge over Josh in a Round 3 Q&A, but Josh knows his stuff and I think he's still a contender if he gets to R3 on finale night. Paul thinks Josh is his own BB16 Cody, but instead Josh could end up being Paul's own BB17 Steve instead and he'd lose the entire season in an eleventh hour milestone on Big Brother 19.
We'll know for sure who will face off in the Round 3 competition probably on Saturday after the Round 2 HoH comp is complete and we have the results. Make sure you download our Big Brother App, join us on Facebook & Twitter, and get our Email Updates to get those end of season spoilers!
What do you think of Paul's read on the situation? Will it all work out just fine for Paul either way, or is he about to lose if Josh wins the next two competitions? Share your thoughts below!