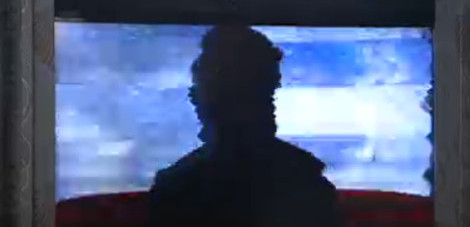 Late last night the Big Brother 12 Saboteur returned to the house. No, it wasn't Annie, the original Saboteur. Instead it was Ragan who was selected by America's Vote to revive the fallen Twist and inject some pranks in to the house. You can watch the entire Saboteur II reveal on the Live Feeds Flashback starting at 9:03PM BBT on all cams as the HGs are stunned by the twist's return.
With the HGs gathered round the screen flickered to life and once again we had the garbled voice and silhouette hiding his identity. The Saboteur thanked Matt for opening Pandora's Box on Friday then threatened them that his mission was to destroy them all and coast to the half-million dollar prize. Before fading away the Saboteur told them to "watch your back, before I stab you in it!"
Matt was the first to react by laughing and asking, "they're trying this again?" Britney and Rachel agreed this was a whole new Saboteur and not the return of Annie (they're right). Enzo proposed that the new Saboteur must have had the option to do it. Hayden proclaims it would be a stupid decision to accept and try to stab everyone in the back. Don't worry, Hayden, he didn't mean it literally!
For the next 2 weeks Ragan will try to cover his tracks and trick the other HGs. If he makes it clear to the other side of this challenge he'll pocket a cool $20K for his efforts. Not too shabby! Unlike Annie, Ragan will still be eligible to win the prize and won't be removed from the game like Annie would have if she had at Week 5.
What do you think? Should Ragan have rejected the Sabo offer?
click images to enlarge