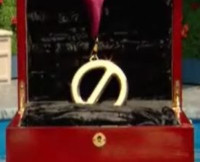 Big Brother 12 is heating up as we enter the fifth week of backstabbing and fighting as stress levels run high amongst the HGs. After finding out who Matt nominated last night it was time for the Veto competition which gave the nominees their last chance at safety to stay in the game.
Read on to find out who won and what that means for the game this week.
The Week 5 Power of Veto results for Big Brother 12:
Britney won the Veto Competition.
Jump on the live feeds right now to watch the house react to the Veto results. Rachel is pissed at Kathy for eliminating her during the competition and she's being none too timid letting that be known. Heavens forbid someone beat Rachel! There's a great screaming match at 3:15PM BBT to watch on Flashback. Rachel is upset for Kathy celebrating a win. Hmm, I guess Rachel never did that…
The players in this week's PoV competition were Matt as HoH, Rachel and Brendon as the nominees, along with Ragan, Kathy, Britney and Enzo. Ragan joined in after using his Veto Ticket won last week. BB11 favorites Jeff and Jordan returned to host the competition. I guess we'll see that Wednesday!
The Veto ceremony will be held on Monday so we'll soon know whether or not the power will be used. Stay close by and we'll let you know as soon as that happens.
What do you think of the PoV Comp results? Should Britney use the Veto?
Jump on the live feeds and enjoy the drama. Watch it all now live & uncensored.
click images to enlarge