This week's Team America mission for Big Brother 16 looked like an easy win for Derrick, Donny, and Frankie but the reins were quickly snatched from their hands as the Houseguests went wild and the latest mission took on a life of its own.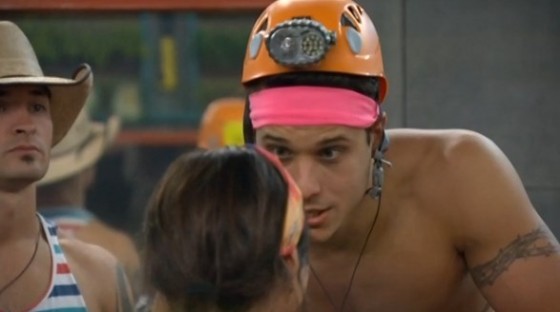 All Team America had to do this week was snatch one item from each of the eight remaining HGs, yes even one from themselves to cover their tracks, and then hide all them. From there Team America planned to leave a message the next morning alerting HGs to the mischief and form a search party. It didn't take nearly that long.
Shortly after TA finished collecting everyone's items Cody noticed his favorite blue hat was missing. Flashback to 5:20 PM BBT 8/18 as Cody searches the house. He's very suspicious and starts suggesting that something is going on. Around 5:40 PM BBT more HGs are realizing they're also missing items. Panic ensues.
Soon the posse is formed and everyone is paranoid and shouting accusations at one another. It's overall just being done in fun and there's lots of joking around. The three main suspects are Christine, Victoria, and Zach. Soon it gets narrowed down to just Zach and while Team America wants to suggest it could be anyone so they can get their patrol going, a critical task in the mission, Frankie is insistent that it's got to be Zach.
Zach is pretty worried about the situation and while he thinks it's overall funny he says this could screw his game. Zach is already doomed and this is just building a coffin around his already complete Big Brother coffin. He protests saying that while the house is wasting their time focusing on him someone else is getting paid to do what he's being blamed for. Yep.
Frankie knows it's not Zach but comes up with reason after reason to convince others it has to be Zach and says it explains every single bizarre event in the house. Even when it's just them two alone and Zach pleads that it's not him Frankie continues to press that it is. Soon Caleb is using this as a threat and reason for why they should get Zach out.
Eventually Zach says it was him and then even snatches the cue ball and gets caught with it. Well that was dumb.
Earlier Derrick had mentioned an idea about if someone had thrown the items away. Cody and Caleb suggest maybe someone stuffed the items in a trash bag in the bottom of the trash bag. Oh they're close. Sure enough, Cody and Caleb discover the items in the recycling bin. Flashback to 8:06PM BBT to watch the discovery.
Overall the blame/frame Zach theme was pointless. He was already set to be evicted and the HGs spent the evening trying to convince themselves this was another reason to do it. It's unfortunate for Zach that Team America, and Frankie in specific, was able to use production through their mission to further their plans to evict Zach.
What is Frankie going to do without his whipping boy and Team America without their scapegoat? I guess we'll find out after Thursday, unless Zach wins his way back in to the house that night. Could be drama ahead!