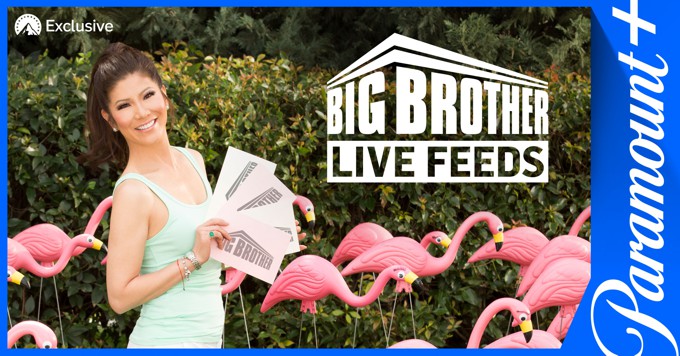 It's that time of the summer again as Big Brother returns tonight on CBS at 8/7c and the Big Brother 24 Live Feeds are set to soon follow at 9:30PM PT. We're rested and ready to go on this next adventure of 82-days barreling toward the season finale on Sept. 25th when a new winner will be crowned and we'll let out a sigh of relief. But First, we need to get ramped up for those Feeds.
Once again this year the Big Brother Feeds will be featured and included in your Paramount+ subscription (used to be All Access and long before that it was hosted with Superpass – boy those were the days!). You'll be able to watch the camera feeds and listen in on the HGs private conversations, but only if you get signed up and ready to start watching!
Want to try the Feeds? Of course, you do. You can test the waters with a one-week Free Trial then after that the cost is $4.99/mo. Sure, it's not free but it's getting close at 15 cents a day. Sign-up today and watch the entire summer of Feeds for about $15, cheaper than two tickets at the movies.
Try Live Feeds 1 Week Free! Only $4.99 per month thereafter. Sign-up now.


We've been here every season since BB10 and continue to grow thanks to readers like you. Thank you for your continued support by visiting us daily, sharing our content on social media, and letting your friends know to join us too. We get this opportunity because of you. Thank you!
Ready to try the Feeds for the first time or maybe you were already planning to get your Feeds? Then a quick reminder on how you can help support our site, BigBrotherNetwork.com.
A big way you can support us is by signing-up for your Live Feeds on Paramount+ through our links and banners here at our site. When you do that we have the opportunity to earn a referral fee from CBS. There's no difference in price for the Feeds or any extra cost to you. CBS credits our site as the source and puts something in the virtual tip jar for us on your behalf.
Hopefully you choose to sign-up at our sign, but if not, be sure to support one of the other independent fan sites and updaters like us. Keep the community running!
Can't get the Feeds but want to help support our site & efforts? Being a daily reader and sharing us with your friends is an amazing way to support us too. We love all our readers whether or not you're able to get the Feeds, especially the ones who tell others about us! Share us on your social media, tell your friends, and read us every day all summer. Thank you for your support in any way you can!