Since Big Brother Houseguest Caleb Reynolds was yet again told that Amber Borzotra was not interested in him it seems to be settling in but he's not taking it too well. Last late night Caleb was acting out again against Amber and it's got some fans asking if production needs to step in.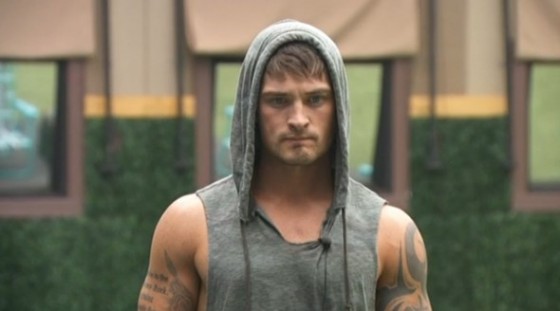 Flashback to 5:26AM BBT 7/28 on your Live Feeds (Get the Free Trial now) to find Caleb standing over Amber while she sleeps. He starts signaling to Cody that he wants to hit Amber with a pillow. Caleb slowly pulls one off her bed, hides behind the door, and throws it at her as she sleeps.
click images to see full-size
Okay, first off, it's a pillow. No one was hurt. Should he have done it? No. It was childish & stupid, but I don't think it's going to get anyone ejected from the game. However, what he started talking about next might require a visit to the Diary Room for a reminder about what's not acceptable.
Throughout the morning Caleb went around bragging to the guys that he had hit Amber in the head with a pillow. Flashback to 9:50AM BBT as he retells it to Derrick. Then jump to 10:15 AM as he talks with Frankie in the HoH room about it before taking it to the next level.
Caleb tells Frankie he wants to cut up a banana and put it in her food without her knowing. Amber hates bananas and listed it as one of her biggest fears in her bio from CBS. He knows that and it's why he suggests taking that action. I'm not convinced he'd really do it, but come on Caleb, grow up.
Do you think Big Brother should just let it be or does Caleb's behavior warrant a discussion in the DR?