It's a good thing Nicole Franzel looks so darn cute in costumes because Big Brother has her rolling in them so far this season. After last week's Froggy costume she's back with a new one after coming out on the losing end of the latest competition.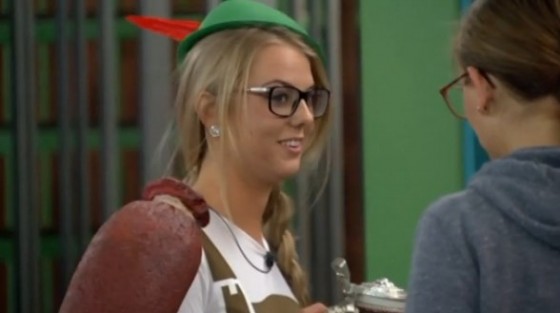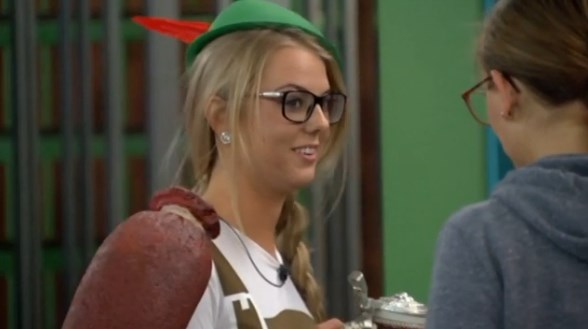 As part of Saturday's Power of Veto competition on Big Brother 16 the participating Houseguests had the chance to snag prizes or get stuck with punishments in the trade-up styled PoV battle. Clearly things did not go to plan for Nicole but we got to enjoy the result on the Live Feeds.
After snagging the Veto from Brittany, which made Nicole a hero for the Detonators, she saw the medallion taken away and instead ended up with the Germ-tard. It's a German themed unitard costume in spirit of Germany winning the World Cup as it was a soccer themed competition. Did I mention Mr. Soccer was the first one out? Oops.
Anyway, Nicole received her punishment "reward" around 8:30PM BBT last night (Flashback) as she returned from the Diary Room wearing a very cute outfit complete with shoes, hate, a beer stein, and a giant wurst. Nicole must keep the props with her 24/7. She looks ready for Oktoberfest.
Best part of Nicole's costume? That beer stein came filled with beer and she says she'll get refills, but also has to keep it full of liquid if she drinks it. Hayden tried to snag a sip, but she said she wasn't allowed to share. Sadly, Nicole didn't know the significance of the mug being a stein. Ah well.
Check out Nicole's costume in the gallery of pics below and see what you think of her latest outfit.
click images to see full-size views