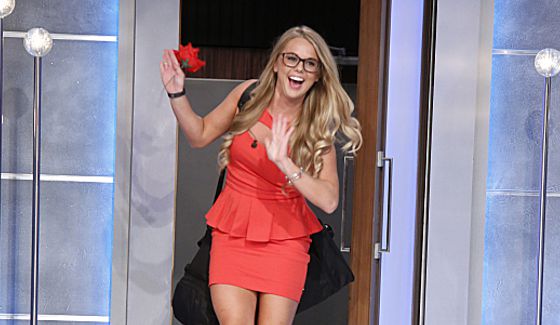 Nicole Franzel returned to the Big Brother house after winning her way from Jury back in to the running for the half-million dollar prize. Unfortunately for Nicole and her fans the odds were against her and she couldn't capitalize on the opportunities for safety before being evicted last night.
Now after being evicted for the second time I had the chance to ask her some new questions since we last talked and I was curious to find out what might have changed for her on the game since then. We discussed what went wrong, who she would have targeted, who she hopes to see in the F2, and more. Read on for Nicole's eviction interview.
Matthew Boyer – Big Brother Network (BBN): What was it like coming back in to the house? Was it hard to get your head back in the game after being going for those few weeks?
Nicole Franzel: Yes, it was very difficult. I feel like I restarted but had a huge disadvantage because everyone seemed much closer than when I left. I was also much more emotional and no longer in game mode.
BBN: Do you think there was any chance of swaying the existing HGs when you returned or were you doomed from your arrival?
Nicole: I think if I could have won HOH I could have gotten people on my side. But because I didn't have power there was no way I could have swayed people.
BBN: If you had one do-over during your time back in the house, what would it be?
Nicole: Pick any competition, I'd want a do-over with any of them. I am so frustrated with how I performed. I beat myself mentally.
BBN: Your eviction last night, easier or harder the second time?
Nicole: Harder, a lot more difficult and I don't know why really.
BBN: When we last chatted, you said your main target would be Christine if you went back in. Had you stayed last night & won HoH, would Christine's eviction have still been your goal?
Nicole: Yes, I would have put up her and Cody and would have been equally satisfied with either one of them at that point.
BBN: Has your return to the house changed who you would like to see win it all this season?
Nicole: I still would like to see Derrick at the end. And Caleb I'd like to see at the end, he is not someone I would have picked prior to my return.
BBN: If you could send one current Houseguest one message in a bottle from the Jury house, what would it be?
Nicole: Maybe Derrick, but I don't know what I would be able to tell him. Maybe to make sure Christine is evicted because that would be better for his game over Cody.
BBN: Were two trips to the house enough or would you still consider an All-Stars return?
Nicole: Well, I would definitely go back into the house if I had another opportunity.
BBN: Although your return was brief, you seemed to really embrace it and enjoy your time. What will be your favorite memory as a "veteran" player on BB16?
Nicole: My best memory was playing that slippery competition because it is a BIG BROTHER tradition. So happy to have played in it even if I did fall a million times.
BBN: Now that you're officially part of the Big Brother alumni, which other past HGs are you most excited to meet?
Nicole: Ian, Dan, Jordan, Brittany and Frank. (Ed. note: presumably she means Britney)
BBN: Thank you, Nicole! Congrats on winning your way back in to the house even though we're here chatting again so soon. We will see you on finale night!
Watch Nicole's pre-season interview when I met with her before entering the house.