Last night Big Brother host Julie Chen revealed to us the latest BB16 twist with the "Big Brother Rewind." A large gold button twist that if pushed would wipe out the entire week of events & force the HGs to start over. But would they push it? What do you think!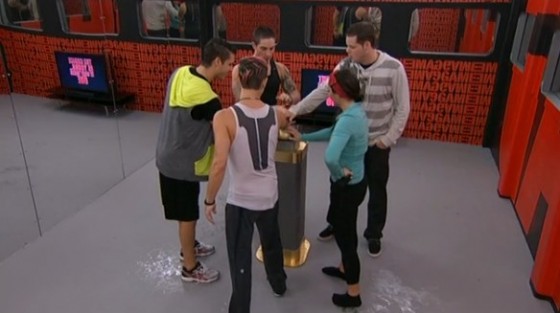 I went back through all the Rewind twist details from the show last night and saw that we'd soon be seeing the button come in to play, but I didn't think it'd all wrap up this quickly. Flashback to 8:27PM BBT 9/4 as the HGs rush out of the Hive and head for the previously sealed Have-Not room.
Inside the newly redesigned twist room with more mirrors and red walls covered in the word "Game" there stood a podium with the sealed golden button. A screen greeted them with a message: "The Choice Is Yours." That's all the HGs had to go on and they immediately started speculating. Cody contributed with "it's a twist!" Someone get that kid a gold star.
What the Houseguests don't know is that this button will reset the entire Week 11 in the game. We'll be right back to the start of the night's HoH competition if the button is pushed. The HoH will have been dethroned, his nominations would be undone, and any Veto results nullified. Everything would be wiped away like it never happened.
Later when the HoH competition was complete the HGs again raced to the old HN room to find a change. The previously sealed box was now open and the message had been updated to "The Choice Is Yours. It Only Takes One." Flashback to 10:24PM BBT as they try to decide what to do.
Frankie, who has just won HoH and has the most to lose here, is pushing hard for the button to be pressed. Derrick strongly advises against doing it and suggests no good will come of this. Caleb thinks they'll miss out on a chance a trip to Hawaii if they don't push it.
Derrick relents and they all lean in to push the button together. Why not, they do everything else unanimously all season so might as well do this together too. The Big Brother Rewind button is pressed and the message screen immediately changes over to a countdown clock. "Uh oh," says one of the Houseguests. Heh.
The Houseguests still have no idea what they've done. They do the math on the countdown timer and decide something is going to happen next Wednesday at 5PM BBT (8PM ET). Yep, that's the special live eviction show next week on the new Big Brother 16 schedule.
Frankie and Caleb think maybe they'll get to play a special game during the regular Wednesday show's broadcast time. Victoria, the surprising voice of reason, tells them that's very optimistic. Derrick tells Frankie he fears this will dethrone him. Yep.
So the Houseguests will carry on with their week. Nominations will be held later today and we know who will be going up. Then the Veto comp is on Saturday and the Ceremony on Monday. None of this will matter.
When Wednesday arrives Julie will announce the news. Frankie will lose his HoH and the nominees will be removed from the block. It seems like we could get another Double Eviction styled night of fast paced competitions to replace what was all just undone. Should be wild.
Ultimately I don't see how this can help Frankie. At best he could win the comp again and be right back where he is now as HoH. At worst, for him, he could lose the comp and end up on the block where he'd likely be evicted.
What do you think of this new Big Brother twist? Should the HGs have pushed the button? Now that you know Frankie is HoH and this could make him vulnerable after all, does that change your opinion of the twist? Share your thoughts!
Update: In an interview with EW, Julie Chen says that ALL Houseguests will get to compete in the rewound HoH comp. Considering it's a rewind of the week I'm surprised Derrick would be eligible as the outgoing HoH, but that's certainly a nice perk for him.
Update 2: Julie rebooted Chenbot and clarified to explain that all Houseguests who previously competed in the HoH competition could compete again on Wednesday night's Rewind. Now that makes way more sense.