Derrick Levasseur may have only been Head of Household for a few hours on Big Brother 16 last night, but he did still receive the usual HoH basket of goodies and items from home.
The odd thing is, something weird seems to have been going on with the photo Derrick received and it put him on edge to the point of sending it back. So what happened?
Update: Direct source from Derrick's family tells me the photo has nothing to do with police, a uniform, or anything like that. The photo was of Tenley and another family member that Derrick did not want to have a photo of. Derrick's undercover story is safe and sound. Fear not, Derrick fans.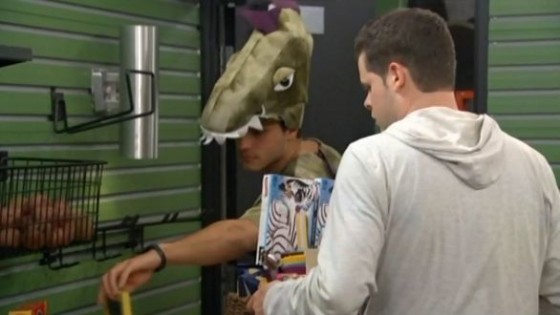 Flashback on your Live Feeds (get the Free Trial now) to 12:07AM BBT 9/5 Cam 4 to find Derrick entering the Storage room to collect his items. There's a long pause as he surveys the scene. Caleb calls out to him to bring back his letter and picture from home as Cody arrives to take a look.
"Who's that?" asks Cody immediately upon poking his head in the room. Derrick doesn't answer but grabs the basket and letter while leaving the picture frame on the counter. Cody enters, grabs the frame, and takes a closer look. He again asks, "who is that?" and adds "your brother?" this time. "No, no, I actually…" replies Derrick. Cody cuts him off with "Why would I say that's your brother?"
click images to see full-size view
Cody continues to inspect the photo closely. "That's your daughter with who?" he asks Derrick. Still no response from a quiet Derrick. Derrick puts the basket back down and walks out of the room. "Hold on one second. I'm trying to think about something," says Derrick.
Derrick returns to the Storage room a moment later and gives an interesting glance up to the camera. He turns to Cody. "I almost want to, to, um… damn," says Derrick with a slight smirk. "Not the best picture to show," says Derrick.
Cody lowers his voice and steps inside the room letting the door close behind him. "What do you mean?" he quietly asks Derrick. There is a distant, blurry view of the photo as Cody turns it to Derrick and then Feeds cut to Fish.
click images to see full-size view
When the Feeds return Derrick is telling the HGs, "I'll tell you. I'll explain it to you," before entering the DR carrying the picture frame he just received. The rest of the HGs sit around chatting as Cody carries in Derrick's other snacks and goodies.
Derrick returns from DR at 12:12AM BBT and confirms when Frankie asks if he's getting a new picture. Feeds cut back out again then return. Derrick reads his letter and Victoria asks about the picture. "It just wasn't a good picture. It wasn't a good picture at all. It wasn't a solid picture," he tells her. Caleb offers "it was all blurry?" Derrick takes that and runs with it. "Yeah, it was jacked up."
I've read speculation that the photo revealed something Derrick may have been trying to hide, but considering all we know is it was a picture of someone with Derrick's daughter that Cody initially thought was Derrick's brother that's really not much to go on. It was a blurry view from too far away to get any detail so it's hard to give too much consideration to what some folks are suggesting.
I do not think Derrick's family would have sent a photo of him in uniform nor would Big Brother so carelessly jeopardize his game (or any Houseguest's game) by sending in a revealing image.
Big Brother was heavy handed on the button when discussions came up so unless Cody whispers to someone what he saw then we may not know until the game is over.
What do you think was going on? Go back and watch at 12:07AM BBT last night to see for yourself.