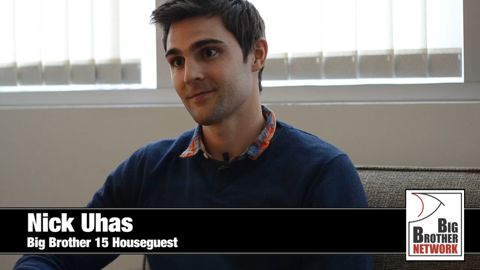 Another week, another blindside on Big Brother 15. This time Nick Uhas fell victim to the MVP twist and found himself betrayed by his alliance and evicted in a 7-4 vote as part of last night's very exciting and intense live show.
Today I spoke with Nick about his experiences and reactions to what went on inside the house. We talked about what went wrong with the Moving Company alliance, his questionable showmance with GinaMarie, and what he's got planned for his future.
BBN: Why, oh why didn't you tell Elissa what she wanted to hear?
Nick Uhas: Talk about one situation where you can basically pinpoint the downfall of Nick Uhas. I was on this uphill battle to gain trust with the Blondentourage so I never wanted to be seen with Elissa or ever talking game with Elissa.
She asked me in the middle of the kitchen. I didn't want to give her an answer, talk to her, or be close to her. I wanted to get out of the situation, not tell her what she wants to hear.
Elissa is a loudspeaker to the house. If I gave her a name, 'Kaitlin, yeah that's good,' that would get back to the Blondentourage. All my hard work and getting in to the Blondetourage would be impossible.
BBN: Who do you blame the most for your eviction?
Nick: I blame the most actually Spencer, but to my knowledge now it looks like Helen.
BBN: What do you think caused the breakup of the Moving Company?
Nick: Oh man, totally bummed. The problem with the Moving Company's demise was that there wasn't enough time to build significant trust. My attitude going in was I would blindly trust five people and build trust over time. You can't have a secret alliance without trusting them and trusting they're going to do what they say in this game. Otherwise you're going to spend so much time paranoid that you're going to paranoia yourself out of that situation.
I think that was actually the downfall of the Moving Company. I think that Howard and Spencer got to a point where they talked so much game among themselves that Spencer eventually paranoid'd himself out of the Moving Company. I don't know why it was advantageous to remove himself by casting a vote against me. He did have so much power on his side of the house that it made sense for him to not be exposed by the Moving Company, but I was thinking a little more long term.
BBN: If you got to start over and build a new MC, who would you ask to join?
Nick: I would ask the exact same people to join. Only difference is I would start another alliance among myself, GinaMarie, Helen, and Helen's pals. Helen is a shaker and a mover who is intelligent who I completely overlooked until almost the last day but it was too late because we were on the block together. It's really hard to build an alliance when you're almost competing with each other.
BBN: What was your best move and what was your worst?
Nick: The best move in the house was creating the Moving Company! The worst move in the house was creating the Moving Company!
BBN: How do you really feel about GinaMarie?
Nick: It started out as a fauxmance. I was very open to the idea of hanging out with GinaMarie. As time progressed it actually turned in to a real showmance. I didn't want a showmance going in to the house. I knew that'd be my Achilles' heel.
About 75% of the way through I realized her emotions were real. Up until the last day I'm sitting there thinking 'wow, this girl really cares about me.' So I wanted to protect her from her own emotions. I didn't want to dive too far deep. I knew at some point the Moving Company would have to let her go so I almost wanted to protect her own emotions because I really did care about her.
When asked if he had romantic feelings for her, Nick answered: The lines get blended in the house, but I was definitely more than a friend. I'm going to go on a date with GinaMarie. We're going to go to a monster truck rally.
BBN: About the GM situation and her comments. How does that affect your view on her?
Nick: I absolutely 100% do not condone that type of behavior. It's not something I would ever do. I don't believe in core value of this behavior. I can't say anything for her. I am not GinaMarie. I guess I'll have to cross that bridge when I get there.
BBN: When you went undercover to infiltrate the Blondetourage, was that your idea or did someone else in the MC push you to do that?
Nick: That was definitely my idea. I really wanted to pursue that. There was this awkward time when the MC was established but we didn't know what side of the house we were going to fall on. I made the decision it would make more sense for me to go toward the Blondetourage based on prior relationships that had started. I already knew Jeremy so that made sense for me to gravitate to that side.
BBN: If you had survived, what was going to be your next move in the game?
Nick: Eliminate Amanda! That was priority #1 for MC. The MC got super-spooked by Amanda because she kinda figured it out.
BBN: As the game sits now, who has the best chance of winning?
Nick: 2 people. Helen has an amazing chance if she doesn't get too power hungry or too threatening. The other is McCrae. He understands the game very, very well and he's a super lowlier. No one in the room is thinking "I'm going to take out McCrae." He's got it down.
BBN: What's next for Nick Uhas?
Nick: I've thought about getting my MBA so I might pursue my MBA. It'd be a good time to do it.
BBN: Thanks, Nick.
Nick was just as high energy as he was when I first met him a few weeks ago. His eviction hasn't dampened those high spirits at all. Nick plans to watch the rest of the season and converse with fans on Twitter so follow him @NickUhas
Watch our original preseason interview with Nick Uhas: