Michelle Meyer was evicted from Big Brother 18 this week after setting herself up as Nicole Franzel's top target following weeks of aggressive tactics while failing to campaign for herself in the least. Now on the outside of the house and heading to Jury we got the chance to ask her a few things about life as a Houseguest on Big Brother.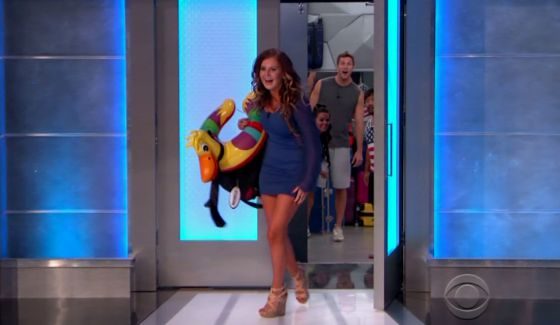 Going from superfan to Houseguest is surely an overwhelming experience as she was now forced to make her own moves instead of watching from home, but when it came time to make those moves she faltered. We asked what happened during her opportunities of power, why there was no campaigning, and more in our interview with Michelle.
Big Brother Network (BBN): James told you not to campaign this week but you even said you were worried you might be the target. Why did you still not do any campaigning at all until just before the very end?
Michelle Meyer: Because when I was co-HOH, I was talking to Nicole and Corey, and they said they were going after Paul if they didn't go home. I thought they were smart players and they realized Paul was the bigger threat, so I didn't think I needed to say anything. I don't know if I campaigned things would be different.
BBN: You mentioned regretting not saving Frank then also regretting not putting Nicole on the Block. Two times you had power and control but ended up doing what other HGs wanted. Do you still regret not making the moves you really wanted to make?
Michelle: Well, if I would have used the veto on frank, the whole house would have been livid – they all wanted frank out, and that would have made me a target. Putting up Nicole would have been hard because I wouldn't have had the votes to get her out anyways… I don't think so, at least.
BBN: After going from Big Brother fan to a Big Brother Houseguest what proved to be the most exciting thing of the experience and what was the worst?
Michelle: The exciting part was getting to talk game with everyone, having a first-hand experience on my favorite show. Getting to live out my dream… the worst part was the constant paranoia, and getting evicted. And, dealing with people that were pissing me off. And, my emotions… my tear ducts.
BBN: Who is playing the best game right now and can go far in the game?
Michelle: I think Natalie. She plays up the dumb card when she's actually very strategic and smart. She can win comps when she needs to. The boys don't see her as a threat so she can go far… and she'll have a killer final two speech. She really surprised me. I'm glad I got close to her.
BBN: Thank you Michelle.
Michelle heads off to Jury now and we'll see her again in a few more weeks for the finale though I imagine if we get some more Jury House footage there's a good chance for some fun drama there. Do you think she'll blend in quietly at Jury or be ready to pile with the rest of the ladies against Paulie?