Shortly after the Big Brother Live Feeds began tonight we discovered spoilers that yet another Houseguest was no longer in the game. According to the HGs, Megan Lowder quit Big Brother 19!
Update: Additional discussions reveal possible cause of what led Megan to self-evict. Megan has also released a statement. Details below.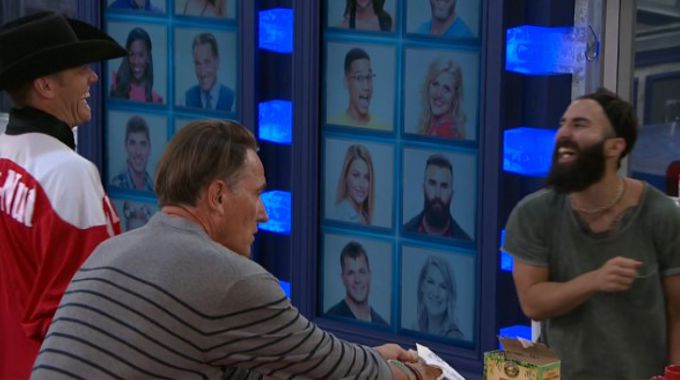 Last we saw of Megan was in the second episode of the season as Cody had just put her on the Block and let her know he really didn't like her too much. Well I don't think that put her over the edge, but it does sound like there was a major fight that lead to her leaving the house.
Quick conversations around the house hinted that Megan was gone, but it wasn't until we saw her photo on the Memory Wall grayed out that this really started to seem real. Sure enough, it happened.
Christmas and Raven met in the bathroom and started to vent their anger over Megan quitting Big Brother. Flashback on your Feeds to 10:35 PM BBT 6/29 to listen in on the conversation.


The ladies described a big fight after saying Megan began playing way too hard, too fast and got caught in her web of lies. She seems to have retreated to the Diary Room on Thursday morning and was gone in less than 3 hours. THREE HOURS. Wow. Remember Audrey camping out in there but not quitting? Megan must have been flat out determined not to reenter the house at that point.
Gallery: Christmas & Raven On Live Feeds
So we're down another Houseguest and a nominee at that though the latter has been corrected. Jillian is now on the Block with Alex. I don't know if they reran any competitions or not as it looks like Cody is still the HoH. Maybe he just had to pick another nom, which would be the easiest to do.
What do you think of Megan self-evicting? How bad is that after Cameron just lost his chance at the game. Maybe we'll get to see him back in the house. That wouldn't be so bad, right?
Jump on the Live Feeds now (get the Free Trial) and watch what happens next cause this is crazy so far.
Update: From the conversation between Raven & Christmas we heard that Megan had possibly said something claiming either Jessica or Alex had said about the other without expecting them to confront the other. Later overnight this topic came up again.
We do not know if this is true, but allegedly Alex was told that Jessica called Alex a "panda" even though Jessica did not say that. Alex may have gone to DR about the situation and eventually it became clear that Jessica did not say what was claimed.
Additionally, HGs suggested Megan was the clear target for eviction this week if she remained on the Block. No surprise, if the rest of the story is accurate. She may have considered herself dead in the water here and instead of staying the last few days to play it out she walked.
This could be what led Megan to decide to self-evict and quit Big Brother. Since this all happened before the Feeds started Thursday night we may never get to see the events. I imagine they'll have to address this in Sunday's episode though.
Update 2: Paul reveals he stirred the pot which led to the fight that he believes caused Megan to leave. Read everything Paul had to say.
Update 3: Megan has released a statement. She explains her time in the house triggered PTSD. Read the full article.