We have arrived at the first Live Feeds Highlights report of the Big Brother 19 season. Finally! All season long we'll be recapping the top moments from the Feeds to catch you up on the latest and let you rewind to those can't-miss events from inside the house.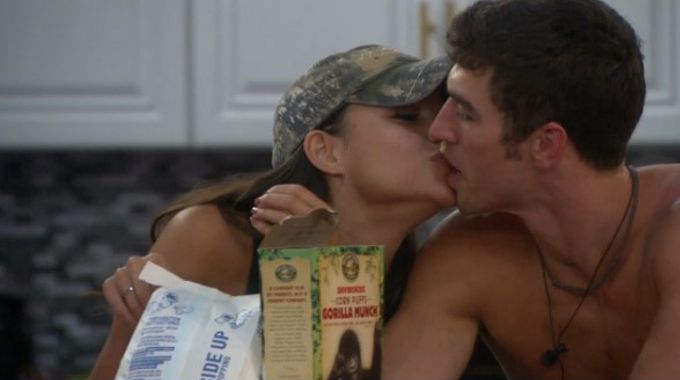 The Big Brother Feeds launched just after the end of the west coast broadcast and we got our first glimpse of the HGs in action. Read on to find out what's been going on in the game since the events of the two-night premiere which was taped last week.


I'm going to run through this one a little differently than we do with our regular Highlights Reports. It was certainly an unusual night with the big news that Megan Lowder quit BB19 and that's going to be the big topic for a bit here, but it wasn't the only interesting thing we discovered on the Feeds.
Megan Lowder Quit Big Brother:
Of course the main focus here for a bit will be that Megan dropped out of BB19 before the Feeds even started. Her photo on the Memory Wall had gone gray by the time we arrived to the party. HGs discussion reveal she may have created a few too many lies and decided to bail when it caught up with her. Read our original report for more details.
twitter-tweet" data-lang="en">

ICYMI: Megan Lowder quit #BB19, HGs reveal shortly after Live Feeds launched. Details: https://t.co/AcYUgCvuka

— Big Brother Network (@bigbrothernet) June 30, 2017
Folks in the house are none too impressed with her, as are a lot out here. It's a serious shame to come this far and then walk on the game and the commitment everyone on both sides have made to have someone there. Very disappointing.
New Nominees Hit The Block:
Megan had been one of Cody's nominees so when she left, well that's a problem. Megan was the target, according to what I heard, no surprise, so that's going to put someone else in the hot seat with her departure.
twitter-tweet" data-lang="en">

Definitely on the Block together. Alex & Jillian haven't mentioned anyone else w/ them. #BB19 pic.twitter.com/VkIvBOoUVL

— Big Brother Network (@bigbrothernet) June 30, 2017
Who has joined Jillian, the remaining original nom? That honor went to Alex who is now on the Block with Jillian. We don't know if there was another competition or not, but still looks like Cody is the HoH and may have simply had to name a replacement. Well that's bad news for Alex who now appears to be the new target. Jillian may want to keep her head down this week.
Temptations & Blue Eyes Or Is It Ice?
We haven't heard for sure who won the Pendant of Power, but I think we all expect that to go to Paul with his built-in fanbase. But what about the consequences that were promised to balance out the reward?
It sounds like Ramses got "bit by the serpent" which must be what we're looking for here. Apparently all the HGs had to go in and see if they were "cursed" by putting their hand in something and see if the "snake" would bite them. That way it's done privately and no one else has to know. Ramses told Jillian he wasn't supposed to discuss the "blue ice" or "blue eyes," I'm not sure, but she would know when it happened.
Have Not Room Revealed:
We got our first look at the Have Not Room, and well just as you'd expect it's not somewhere you want to end up! The room is filled with spikes on the wall and the beds. HGs also have sleeping bags so it's either cold or they just have them to try and smooth out the spiky beds.
Took me a moment, but that's gotta be the HN room. Sleeping bags & spikes on the "beds". Yikes. #BB19 pic.twitter.com/PbDS6oG2L0

— Big Brother Network (@bigbrothernet) June 30, 2017
Have I mentioned how much I dislike HNs? Hard to keep us entertained when you're too tired from no sleep and no food. Speaking of that, Josh is a Have Not and pleaded to the cameras for help with his Slop diet. Not sure who else is there with him, but we'll get that soon enough.
House Bonds Over The "Josh Situation":
Remember how nutty Josh went during last night's episode? Well apparently that hasn't stopped and it's become a common interest among a large group of HGs.
Paul seemed to wisely push the common enemy with some pretty spot on impressions of him last night with the HoH group. There was a good number of folks piling on as well so this seems to be a common view about Josh being ridiculous and over the top. If Paul is using that to get back on Cody's good side then it was a well played move.
HGs bonding over how ridiculous Josh is. #excellent #BB19 pic.twitter.com/l2tn4787Vs

— Big Brother Network (@bigbrothernet) June 30, 2017
Josh gave us lots of camera talking last night to explain that he's just human and wears his emotions on his sleeve. Ya think? Oh I hope he sticks around here. He'll be a gold mine for the Feeds.
Showmances, showmances, showmances:
Well production must be thrilled with themselves. Feeds turned on to immediately feature two possible couples and another appeared as the night went on.
So far it looks like Cody & Jessica have paired up along with maybe Matthew & Raven. Then we've also go Elena & Mark who did lots of suggestive flirting. They've only been in there a week or so and things have really taken form there. Six HGs together including three of the biggest guys could be a serious force in the game that will need to be addressed.
So there's this. #BB19 pic.twitter.com/S8Wui1KiHK

— Big Brother Network (@bigbrothernet) June 30, 2017
Oops – First 'Slip' Of The Season:
Honorable mention for the night goes to Christmas for delivering the first "oops" moment of the Feeds. She agreed to be zipped up inside a piece of luggage and when she exited there was an ever so slight slip. Flashback to 12:15 AM BBT 6/30. Christmas quickly realized and was thoroughly embarrassed but did a great job of taking it in stride and did her best to laugh it off.
So there we go for the review of the first night of Feeds. We'll soon get our regular routine of Highlights going with full rundown events and times but this seemed like a good approach for Night 1. I'm definitely pleased with this group so far and am looking forward to the season. What about you?
Don't forget to sign up for the Big Brother Live Feeds right now so you don't miss anything else this season. Anything you want to watch from our Highlights report is always available using the rewind feature to pick any day, time, and camera to watch it again. Enjoy!


You can watch all of these Big Brother events using the archives Flashback, the DVR-like feature of this year's Live Feeds which means it's always live, even when you missed it! Sign-up now and get the free trial to watch it all live & uncensored.
Gallery: First Night Of BB19 Live Feeds
click thumbnails to see full-size views