The Big Brother 19 premiere continues now on CBS as the remaining 15 Newbies and returning Veteran Paul Abrahamian keep the party rolling. And what's a Big Brother party without a Head of Household? Time to end that mystery and get the game in gear.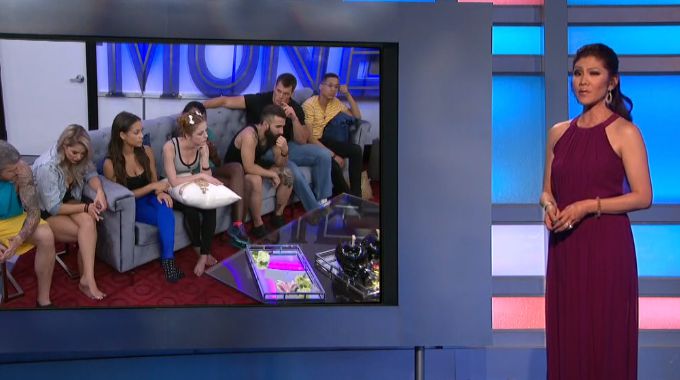 Julie Chen is back to greet us outside the BB19 House as we prepare for tonight's one hour episode featuring fallout from last night's eviction vote that sent Cameron out the door and is sure to have some of the guys worried. When the show ends it's time to crank up our Live Feeds and find out the latest spoilers on what's been going on the past week inside the game!


There's just one hour of Big Brother ahead of us here then we'll hit our regular Big Brother 19 schedule with Sundays (8/7c), Wednesdays (8/7c), and Thursdays (9/8c) live eviction shows. Ready to get this party started? With so much to cover there won't be much time so let's go!
We left off with Cameron leaving and some heightened tension between Paul and the HGs who didn't receive a Friendship. The pressure could be on for Paul to secure his safety, but since we know about the Pendant of Protection I doubt many of us think he's in too much danger either way, right?
Considering the impressive showing we got from Alex, Cody, and Matthew in last night's competition I wouldn't be surprised to see any of them take this comp if it's an endurance battle. Time to find out!
Head of Household Competition:
Before we can get this comp going there's a ring at the door. Oh no. Here comes Nicole (BB18) to host the first HoH battle of the season. Paul is getting triggered left and right here. The HGs will be playing in teams of four so they've got to split up.
Yellow: Josh, Kevin, Elena, Jillian
Orange: Ramses, Christmas, Alex, Jason
Blue: Raven, Megan, Mark, Paul
Pink: Matthew, Jessica, Cody, Dominique
There's a golden apple that any HG can grab and give them safety, but the rest of his/her team will be eliminated. Guess who goes for it? Josh. Well Kevin just got real lucky because he was going to have to throw the comp after taking that $25K temptation. Josh has lost his mind and is yelling at his teammates that he knows everyone was coming after him. Well they are now!
Pink and Blue move on to the second round. Here just one player from each team will be their champion with the winner becoming the first HoH. Paul plays for Blue and Cody plays for Pink.
Cody wins HoH!
Cody is our first Head of Household for Big Brother 19. Time to start working on some nominations! Cody was pissed at Josh for taking that golden apple, but that's going to keep him safe for now.
So much drama here in the fallout. Josh starts yelling at Megan again, yeah he did that during the HoH comp too. Then we've got Cody upset at Paul for him having too much fun. Cody doesn't like fun and he definitely doesn't like others having any of it either. So that puts Paul on Cody's list.
Mark catches up with Cody to talk nomination plans. Cody reveals he wants to Backdoor Paul. Mark wants to work with Paul, but for now is going along with Cody's idea.
Nomination Ceremony:
Cody reveals his picks for the first nominations of the BB19 season:
Sunday's episode will deliver the first Den of Temptation, but now we've got more important things like LIVE FEEDS! Hooray! Get ready and sign up now with the banner below!

Want even more Big Brother 19 spoilers, updates, and news? Download our Big Brother App, join us on Facebook & Twitter, and get our Email Updates for constant coverage all summer.