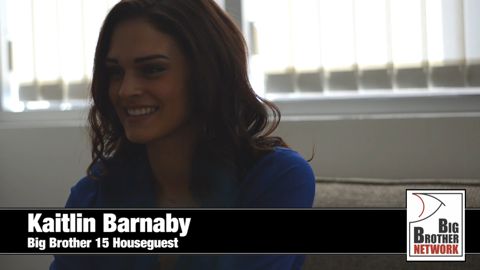 Kaitlin Barnaby became the 4th evicted HG and first female to leave the Big Brother house this week when she was voted out in a 9-0 tally. As a complete newbie to the Big Brother game she often gave us an entertaining turn at the game though she didn't leave without her own part in this season's drama.
Read on to find out what Kaitlin had to say about her approach to the game, who she wishes she had aligned with, and her take on the racial commentary this season.
Big Brother Network: What was your best move this season and what was your worst?
Kaitlin Barnaby: I think my worst move this season was giving my loyalty away too fast to Aaryn. I think she was great downfall in my game. I definitely aligned with the wrong people in the house.
My best move in the house was probably continuing to be a hard competitor.
BBN: As for aligning with the wrong people, if you could start over and pick a new alliance with 4 other HGs, who would it be?
Kaitlin: I would probably have to say Andy and Helen, and I know they were associated with Candice and Elissa as well. I think Helen is a very loyal player, she's brilliant, and I love Andy to death.
BBN: What are your thoughts on the MVP nominee this past week now that you know it's America?
Kaitlin: It actually shocked me that America put up Elissa. I honestly thought she put herself on the block. I thought it was a brilliant move on her behalf. Now I'm realizing it's America and it surprises me how somebody who gets MVP week after week gets put on the block. I'm definitely intrigued to see who they put on the block next week.
BBN: Why did you think it would have been a "brilliant move" for Elissa to nominate herself when you thought she was MVP?
Kaitlin: I think it would throw people for a loop and that's exactly it did. Everybody was blaming each other. She was blaming everyone in the house. It spiced up the game and I thought that's what she was all about. I think she was also safe and she probably thought she was very safe as well and nobody was going to vote her out.
BBN: Do you have any second thoughts on using the Veto last week to clear the path for Jeremy's eviction?
Kaitlin: Part of me wishes I could have left him there to do very well, but the same situation could have happened where I got myself voted out and he could have been out the next week. It probably really wasn't worth it if I had chosen not to use the Veto. I was really happy that I won the Veto for himself since I've been evicted. I at least got to win something so I can't take anything back in that situation.
BBN: We heard from several HGs that you never campaigned to them this week. Was there a strategy to that?
Kaitlin: I didn't really campaign that hard because to be honest that whole week everyone told me that Aaryn was the target. It just so happened that this rumor [her faux alliance] got let out and really did me in. I didn't really think Aaryn was campaigning against me. Little did I know that she was. I thought I was protected by Helen, Elissa, and Andy.
BBN: As for the racial tension this season, during the big fight with Candice, what did you mean by "gonna see the black girl come out?"
Kaitlin: Candice the whole time has said that she has a "white side" and a "black side." I didn't mean anything by it. I just knew that when she gets a little malicious that the black side was coming out of her. She knew exactly what I was saying. I didn't mean it in a derogatory way. She joked about it all the time. It wasn't anything negative towards her. I believe I was laughing when I said it.
BBN: What will be your favorite memory leaving Big Brother 15?
Kaitlin: I don't know if I can even pick one. I definitely had a lot of laughs. It was a connection with a lot of people that I don't think I'll ever feel again in my life. It's a crazy experience and it feels more or less like family. As much as crappy things happen, in the end only one person can win and you can't take anything personal. It's a game at the end of the day and every single person in there is fantastic and genuine whether they have a good side or a bad side. I will continue to be in contact with everyone.
BBN: What's next for you now that you're out of the game?
Kaitlin: I am actually moving from Minnesota and moving to Vegas to be with my dad and my brother. I'm going to bartend out there for a little bit, finish my schooling, and figure out what I want to do with the rest of my life and see where it takes me.
BBN: Thank you, Kaitlin.
Watch our preseason interview with Kaitlin and see how things may have changed from her plans going in to the game.
Kaitlin Barnaby – Big Brother 15 preseason interview: