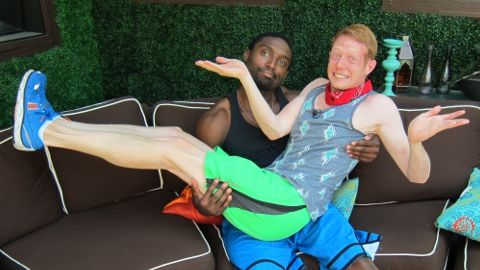 Later today the next round of Big Brother 15 nominations for Week 5 will be announced. Thanks to what we've heard on the Live Feeds we have a clear picture of where Aaryn, the new HoH, is heading with her picks, or should we say the picks she's been assigned.
Part of Aaryn's deal to avoid eviction on Thursday was that she'd let Helen and others on that side tell her who to nominate this week. At the close of last night's show we saw Big Jeff tell Julie he didn't think Aaryn would stick to that agreement. I didn't think she would either, but apparently she's actually going to make good on that.

Just five short mins after the Feeds returned last night Helen had already pulled Aaryn in to the Storage Room to discuss possible nominees. Flashback to 7:05PM BBT to listen in. Surprisingly part of the discussion turned to Elissa and Helen's consideration of putting her up. Aaryn told Helen that she'd do that for her, but then Helen would have to pretend to be angry at her about it. Helen indicated that wouldn't be a problem, but she wanted to think about it.
Soon after Aaryn was telling Spencer that he might go up, but he wouldn't be the target. Aaryn also added that she wanted to revisit a previous, unnamed target of hers that she thought she'd have the support to evict this time around. Sure sounded like more Elissa talk. Even Spencer thought that when he talked with others later.
Sign-up now and start watching in-house cameras on Big Brother 15
Whatever Aaryn's thoughts on Elissa might be she's no longer part of her plan. Since all that Elissa talk Aaryn has made it clear that she'll be nominating Howard & Spencer. That'll make Helen, Amanda, and several other HGs happy.
Earlier this morning Aaryn had a private talk with Candice and confirmed again that the house wants Howard up. Aaryn also said she wasn't trying to backdoor anyone since she didn't think that was a good way to play things.
If Howard goes up as we expect then he better hope for either a Veto win or an MVP nominee that's more tempting of a target than he is!
Who do you think Aaryn should nominate this week for eviction from Big Brother?