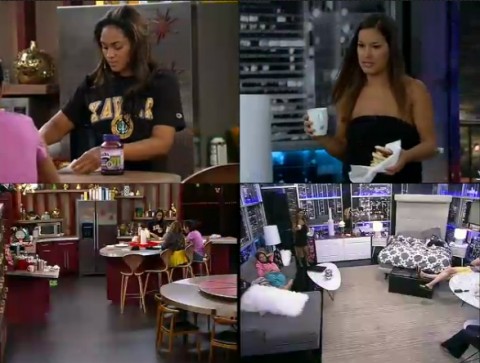 It was opposites day in the Big Brother 15 house! Aaryn is in power and everyone is sucking up to her. There are some pushes in a few different directions on who to nominate and a lot of the girls are still playing personally so the actual nominations could end up random. Aside from that, a lot of bashing has been going on, including some pretty racist stuff. Yes, again. Sigh.
Read about those moments and others on our Live Feeds highlights below. And remember that you can check out any of these moments by using the Live Feeds flashback/archive feature.
Big Brother 15 Live Feed Highlights – Friday, July 26, 2013
9:00 AM BBT – Feeds cut. Wake-up time.

9:34 AM BBT – Candice tells Aaryn that had she not won Head of Household the house would have nominated her and evicted her this week. Candice suggests they work together and says she could put up Amanda and McCrae and they'd have the numbers to get Amanda out. She says if she wants to make a big move, she'll back her. Aaryn tells Candice that Amanda is the main reason why she's still here. Candice tells her Amanda is the one who wants her out. They're completely on opposite ends of the Amanda spectrum.

9:50 AM BBT – Aaryn tells Candice she has to do what Helen and Elissa want this week because that was the deal.

10:00 AM BBT – Candice tells Howard about the conversation she had with Aaryn. She's upset and she thinks she will be backdoored this week. Candice also suspects Howard's loyalty is with Spencer and not her (she's right).

11:04 AM BBT – Aaryn and Jessie are glad they're getting along again. Bad, Jessie, bad!

11:15 PM BBT – Aaryn telling Amanda and McCrae about the conversation she had with Candice and what she said about the two of them. Amanda is angry and saying nasty things about Candice.

11:50 PM BBT – Lots of Pandora's Box comments today. Houseguests are wondering if one will be showing up.

12:30 PM BBT – Still a lot of MVP speculation and paranoia going around.

12:42 PM BBT – Candice is crying. Helen explains to her why Howard has to go home. They want all girls in the game.

12:50 PM – Candice is really upset now. She misses her family and is afraid Howard will be getting evicted. And she's confused as to who Howard is really loyal to.

1:05 PM BBT -Aaryn and Amanda are on round two of their Candice bashing.

1:18 PM BBT – Bashing finally goes off Candice and onto Spencer.

2:00 PM BBT – Feeds cut. Have-Not competition.

3:55 PM BBT – Feeds return. GinaMarie, Amanda, Judd, & Candice are Have-Nots. They'll be eating ramen noodles and raisins. That's not too bad.
So right now, Howard and Spencer are on Aaryn's radar because that's who Helen, Elissa and Amanda are pushing for. Of course Candice is pushing for McCrae and Amanda, but Aaryn doesn't like Candice at all, so that won't be happening. Plus we still get America's MVP nominee, so anything can happen.
You can watch all of these Big Brother 15 events using the archives flashback, the DVR-like feature of this year's Live Feeds which means it's always live, even when you missed it! Sign-up now to get the free trial to watch it all live & uncensored.