All season Team America has operated in the dark never knowing for sure if their missions have been considered a success or a failure. Per their original details the alliance would have to wait until the season was over to learn if they had passed each challenge. That's all set to change tonight.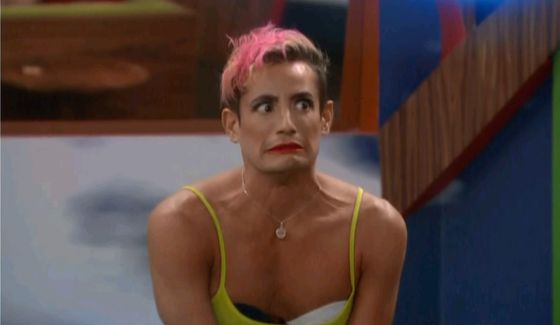 For the first time this season Frankie Grande, Donny Thompson, and Derrick Levasseur will learn whether or not their latest mission attempt was a success. CBS is upping the ante even more when they allow host Julie Chen to make the announcement live during tonight's show.
But wait, you might be asking how can this secret alliance learn the fate of their secret mission in front of all the other HGs. Time for some cloak and dagger!
Flashback on your Live Feeds (get the Free Trial now!) to 5:54PM BBT 8/27 Cams 3/4 as Frankie shares some surprising news with Derrick.
Frankie has learned from the DR that Julie will give them a secret message during tonight's live show. She will ask one of the Team America members, "what food would you like to request of America?" If they respond, "apple pie," then Julie will reveal the results.
Should Julie tell the Team America member "granted" for their pie request then the mission was a success, but if they hear "denied" in response then it was a failure. It's all up to the viewers.
Derrick says he expect Julie to ask Frankie since "it was basically your mission." Yep, I'm thinking the same thing. That means we'll get a close-up on Frankie when the results are revealed so expect the cameras to go to him for the question.
This week Team America rejected Donny's request for help and Frankie said they should instead put on a play. Yes, Frankie said America would rather watch him in drag than see Donny saved from eviction. After BB forced a lockdown to give HGs no option but to participate I decided not to watch their "play." What I did see in the show wasn't great other than few moments (Donny's impression was fun.), but overall I can't imagine this will be considered a success.
Frankie says he wants to throw up he's so nervous. Derrick asks "why would they do that to us?" Frankie suggests that if America has rejected his "Broadway!" mission "it'll be crushing… Crushing. I'll basically give up." He says that he'll go to the HoH challenge off his game, distracted, and uninterested in competing. Uh oh, Frankie. I got a bad feeling about this one for you.
Voting ended earlier today and from the Twitter discussions I saw many fans were definitely not pleased with Frankie's decision. I will be surprised if this gets a "success" response from Julie.
Derrick continues to wonder why they're getting a response now after weeks of silence. I think Big Brother knows viewers aren't happy about how this mission turned out and they're going to give fans what a lot of them want to see.
What did you think of Team America's mission? Was their "House Swap" play worth of a mission and if so was it a success or a failure? Vote in our poll now and then join us tonight for the live show where we'll find out the results.