After a strong push last night by Caleb and Frankie to save Donny things fell apart when Cody stood his ground and said no. Now in the final hours before the next Big Brother 16 eviction another push has emerged and this one may take root. Here's what's happening now.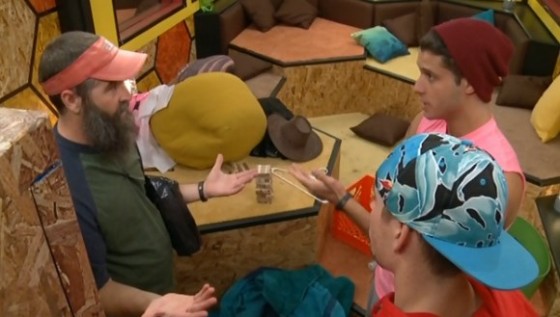 The Live Feeds had been down since the HGs woke up this morning as production prepared for tonight's live show, but when things came back the action took off. Flashback to 1:15PM BBT (get the Free Trial now) as Caleb whispers to Derrick what we heard during an earlier break. Caleb wants to vote 3-2 with the guys keeping Donny so the guys become Donny's target. Hmm.
After speaking with Caleb, Frankie goes and grabs Cody to talk in the Storage room. Cody is immediately resistant to this idea. He was against keeping Donny last night and doesn't like the idea anymore right now.
Cody tells Frankie he does not want to keep Donny. Frankie points out that the three voting guys do though. Zing! Now Cody changes his tune and says he won't be pissed. Yesterday he said he would be pissed. The tide is changing.
Victoria breaks up the game talk and soon they're all gathered in the Fire room but no one is saying anything. Frankie again pulls Cody back to the Storage room. Flashback to 1:35PM BBT. Caleb arrives and tag teams with Frankie to wear down Cody who eventually agrees to the idea. Cody says he trusts the guys "so f**k it."
But hang on. The guys need Derrick's vote and they're assuming they've got it. Before Cody went back in to the Storage room Derrick told him that he was not voting out Nicole. Hmm.
Cody leaves Storage and heads to the Hive to talk with Donny. Flashback to 2:22PM BBT for their conversation. Donny promises Cody that he's not a target for him. Cody says they'll keep Donny and all work together to get out the girls. They shake and hug.
Cody leaves that meeting and gets pulled in to the Fire room by Nicole. Good grief. Flashback to 2:40PM BBT. Cody sits down with Nicole and starts chatting as she asks what's going on with the vote flipping. She knows because while Cody was dealmaking with Donny, Derrick was in the bathroom telling Nicole that Cody wanted her out.
Speaking of Derrick, he walks in on this conversation and tells Cody that he will NOT vote out Nicole. He's not keeping Donny tonight. Derrick turns and leaves. So that's that.
Wrapping it all up, the majority alliance meets in the Hive. Flashback to 2:55PM BBT. Everyone gathers and Derrick is again pushing that Donny has to go home. They agree: Donny is going home.
When the votes are revealed tonight, get ready for another 5-0 eviction. Unless… Nah.