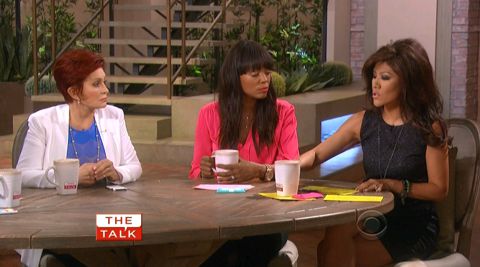 More than a week after the drama started CBS decided to address the abhorrent behavior by some of the Big Brother 15 HGs. First Aaryn's comments along with one from GinaMarie were shared as part of last night's show. Then today on "The Talk," host Julie Chen spoke personally about what was said and how it impacted her.
"When I first found out that Aaryn, who is a 22 year-old girl, made anti-gay, anti-black, and anti-Asian comments, I have to be honest, you know, the Asian ones hit me the most. I heard her describing Asians as 'squinty eyed' and 'go make a bowl of rice. She said that about Helen, who is Chinese [Editor's note: Helen is Korean, not Chinese.] It stung. I took it personally. I'm a human being."
Julie went on to explain the worst part was how it took her back forty years in society's civil progress. "When I was growing up in Queens and when I was seven years old I was getting bullied, getting called a 'chink' and people pulling their eyes. It took me back so many years and I thought to myself, 'wow, I haven't heard comments like that, the year is 2013, and there are still people who… still live in this country who feel that way and act that way? Yes, there is. Yes, there is."
She commented that while the self-deprecating jokes she might make about Asian Americans, as one herself, are in jest, these weren't. "Afterwards, it just made me sad because she's 22 and she's college educated… Watching her say 'go make a bowl of rice,' it felt mean spirited. It felt ugly and it felt mean."
Aisha Tyler added that the hosts of "The Talk" try to make racial jokes to poke holes in stereotypes, but Aaryn is trying to "inflate that bubble and increase those negative attitudes."
Sharon Osborne, a co-host of 'The Talk,' commented, "she's obviously a very troubled young girl." Sharon found Aaryn's behavior "frightening" and suspected she must have a "lot of problems."
Julie closed out the discussion saying CBS finally decided to air it after a week because it's now part of the story and driving how the other players are behaving. I don't think that's necessarily accurate and sounds like a flimsy excuse on why it took them so long to address it, but all the same I'm glad TV-only viewers got to see the real side of Aaryn and a glimpse of GinaMarie. Hopefully those surprised by the news will dig deeper on their own and find out about the other HGs' commentary.
What do you think about the way CBS is handling this situation and responding to the comments made by the Big Brother 15 houseguests?