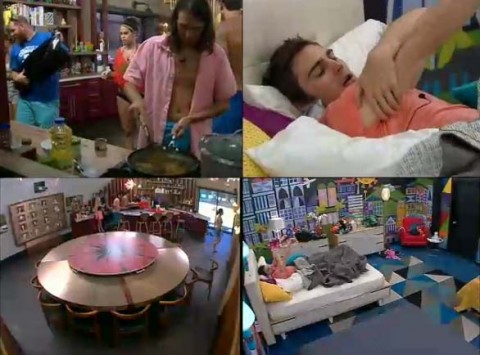 It was Veto Ceremony day in the Big Brother 15 house. So that means Jeremy used the veto on himself and MVP Elissa was forced to make a replacement nominee. Right now things are a bit more mild than you'd think, but it's still early in the day.
Read about all the moments from the house on our Live Feeds highlights below. And remember that you can check out any of these moments by using the Live Feeds flashback/archive feature.
Big Brother 15 Live Feed Highlights – Monday, July 8, 2013
9:03 AM BBT – Houseguests are up and moving about the house, ready to start the day.

9:16 AM BBT – Judd suggests that Elissa should put up Kaitlin today when Jeremy takes himself off the block. She thinks that's a risky idea.

10:55 AM BBT – Outdoor lockdown and then feeds cut. Power of Veto Ceremony is going on.

11:39 AM BBT – Feeds are back. Nick is sitting on the nomination sofa. Looks like he was announced as the MVP's renomination during the Veto ceremony.

11:51 AM BBT – Andy tells Elissa the plan to get Nick out should work.

12:10 PM BBT – Spencer reminds McCrae that Amanda is not doing very good things for him and his Moving Company alliance. He says she makes them nervous.

12:23 PM BBT – Howard and  join in and talk of an alliance of 9 to get to jury starts. The suggested nine: Spencer, Jeremy, McCrae, Nick, Howard, Amanda, Aaryn, Kaitlin andn GinaMarie. (That sounds just awful. How about NO to that?)

2:15 PM BBT – Amanda is quizzing Andy, Jeremy and Jessie. She asks "what is my boyfriend's name?" Jeremy responds with "fa**ot." He gets called to the Diary Room right after. It would appear he may have been warned or at least reminded that he's on a television show. Maybe.

2:48 PM BBT – Andy discusses homophobia and tells some of the others about being called "fa**ot" and Aaryn responds with "Like straight to your face? We don't even do that." To your face, I'm guessing she means.

3:05 PM BBT – House is pretty quiet. Not much is going on including any game talk.

3:23 PM BBT – For those who didn't get enough of the friskiness last night, Jeremy and Kaitlin are making out in the pool.

3:53 PM BBT – Discussion is on Elissa (as usual). Aaryn and Nick are talking about her apparently telling people that Nick wanted Aaryn's group to go up instead of him.
As you can see, it's been a relatively quiet day in the house, but one thing we know from today, what's going to happen at this week's eviction isn't quite set in stone yet. It's leaning more toward an Elissa eviction, but something could happen that ends up sending Nick out the door this Thursday.
You can watch all of these Big Brother 15 events using the archives flashback, the DVR-like feature of this year's Live Feeds which means it's always live, even when you missed it! Sign-up now to get the free trial to watch it all live & uncensored.