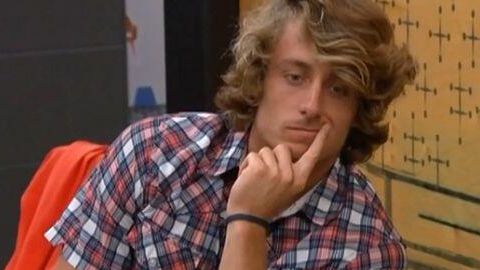 David Girton became the first HG to be evicted from Big Brother 15 and the first to fall victim to this season's MVP twist. I spoke with him today about his time in the house albeit brief, how surprised he was by his eviction, and what he had to say about both his racially insensitive comments and Aaryn's as well.
BBN: Did you ever question your alliance with Jeremy and his trust before your eviction?
David: Actually, no, not really. I felt like me and him were the Bromance of the house. We connected right away with surfing and skating. We were goofy guys who were always goofing in the backyard. I knew he had my back and I knew what a good-hearted guy he was.
I actually had a conversation before the live show and asked him "Dude, you're kinda acting weird. Do you have my back?" He looked me in the eye, "you'll find out on television that I did not vote for you, David." I knew he had my back all the way. Same with Aaryn. It made me feel good.
BBN: Preseason you told me your strategy was to lay low and go with the flow. You seemed to almost take that to an extreme when there was virtually no campaigning from you ahead of the eviction. Do you regret such a laid back approach?
David: Yeah, dude. Aaryn and I connected right away. I knew she was a good person and the kind of girl I've always been waiting for with blond hair, blue eyes plus with a good personality.
I feel like not winning that first HoH cost me or I should have acted like I threw the first HoH.
I think Aaryn had a big impact on my game, to say the least. She kinda told me what to do in some situations and what not to do and was kinda getting mad at me about it. So I feel like Aaryn was kinda like impacting my game in some certain ways because like I couldn't be myself. If I was to go back in the house I would be way more vocal and in their faces about who they are as a person.
Since I was on the block, I wanted to be quiet and not like get in people's faces and cause too much drama. I wanted to be that nice, likable guy who was competitive, but it kinda hurt me in the end because of what Amanda said. I hooked up with the biggest B and people were lying to me. I'm not used to people lying to me.
BBN: You said if you had the chance to go back in you'd get in people's faces about who they really were, but you also mentioned Aaryn being the girl you were waiting for. What's your take on this Aaryn situation with her comments?
David: Did I see it coming? No. I was never really around when Aaryn was making those comments and I didn't realize she was that type of person. I thought it was pretty harsh. I know she's not that and I know the house messes with your mind and brings out the things you shouldn't say just cause you're so pissed off.
What I said, it was in the heat of the moment. I knew I shouldn't have made that comment about what I said when I was laying in bed. [Editor's note: David was not laying in bed for his "black Candice." It's possible we missed another comment from him or he could have misspoken.] I didn't mean it by any regards. I probably would have said that about a white person too, but yeah, I felt super bad. I'm not that type of person at all and I know she's not. She's good hearted.
BBN: In light of these revelations about Aaryn, is there still a potential for a post Big Brother relationship?
David: After hearing Jeremy was trying to get with Aaryn, I don't know. I thought there was.
BBN: In the days leading up to your eviction your demeanor seemed to change. Did you know you were going or were you worn down by the game?
David: I suspected, bro. I hold a lot inside and like to keep to myself. I knew Aaryn didn't suspect and I didn't want to worry her so I held a lot inside. I suspected right when I got MVP'd to be honest. It sucks that I kinda threw the Veto, but I didn't throw the Veto. I was trying my hardest.
I should have played a different game. I should have been out there for myself. Like Jeremy said, this is a one man game and a one man crew. I put my heart on the line for Aaryn and I shouldn't have done that.
BBN: You mentioned being angry at Nick for his goodbye message, but are you more upset with him than Jeremy who helped orchestrate your exit?
David: I'm kinda bitter with Jeremy too. This is the first time I've ever been bitter. Like, Jeremy, like, he was jealous of me too. He surfed and he knew I was like a better surfer than him and like if I stayed in the house longer they knew the houseguests would have liked me more than them. It was crazy, man.
BBN: What was your best move in the game and what was your worst?
David: [Laughs] To tell you the truth, my best move was being a likable guy and showing America how tough I was in the competitions and how competitive I was. The worst move was probably aligning with Aaryn. She kinda threw off my game. That was probably my worst move. I went in to it too fast and would have taken it slow otherwise.
BBN: You said Nick & Amanda were playing the best game. Which of those two do you think has the best chance of winning?
David: Probably Amanda. Even though Nick has the Moving Company I think Amanda because she knows how to talk to people better and she knows how to sell herself better.
BBN: Who do you want to see sitting out there next to Julie on Thursday night?
David: Who is on the block right now? Probably Helen because she's kinda boring in my opinion. I think if Elissa gets voted out then America might vote her back in. Hopefully I'm that guy that goes back in because I really think someone is going back in the house this year. [David felt strongly that someone would be voted back in this season despite him not being in sequester.]
BBN: What's next for David? Back to surfing and the beach or bigger plans?
David: To tell you the truth, man, I really don't know what's next for me. I put all my eggs in one basket to be on this show and I might still have a job as a beach lifeguard. I was actually going to quit after this season anyway. My true passion was always to be a model like Aaryn said. I liked being on that reality show and I wish I would have had more airtime because I saw a lot of my DR interviews and they were pretty hilarious. I actually have no clue what's next for me.
BBN: Thanks, David.
What do you think of David's reactions and comments from a post Big Brother perspective? Watch David's preseason interview from just three weeks ago and see how things stack up.
David Girton – Big Brother 15 preseason interview: