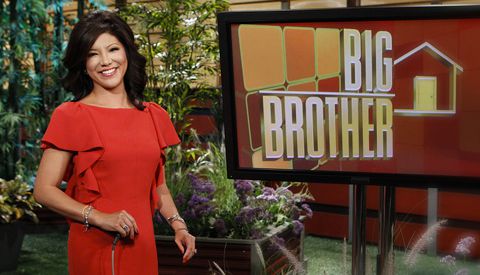 Today on Twitter Big Brother 15 host Julie Chen held an "ask me anything" chat with fans and gave us our first bite at this summer's Big Brother twist. When asked for a "juicy hint" for BB15, Julie responded with how this latest twist will impact the game:
twitter-tweet">

.@gabriellaabella The twist makes it a no-floater summer! #BigBrother

— Julie Chen(@JulieChen) June 12, 2013
So what could that mean for Big Brother 15? Well just about anything, so let's speculate away. This might mean "do or die" scenarios where either you compete to win or you walk out the door. Last to the finish line, so to speak. Another option is the pre-formed alliance rumor hanging around. If HGs come in to the house already paired (or maybe more than just pairs – teams anyone?) they'd technically not be floating as they would have a solid alliance, at least until their teammate(s) was(were) evicted. What do you think the twist could be? Share your thoughts below!
This could definitely make things interesting and could really have a deep impact on the game, but is it the right move to forcefully prevent floating? It seems most fans aren't apt to give credence to this passive approach to Big Brother, but it can be wildly effective. Almost every season sees HGs sit back and enjoy a lazy-river ride to the summer's back half and it can even be a welcome opportunity for the competitors as they try to decide who they want to face off against before the jury.
Then again, before we get too far down the rabbit hole it's important to remember that twists are not the end-all of Big Brother. Saboteur, anyone? We'll anxious await more details, but for now this is a fun possibility to discuss as we wait for Big Brother 15 to start on June 26th. Don't forget to grab your Early Bird discount on the Feeds!