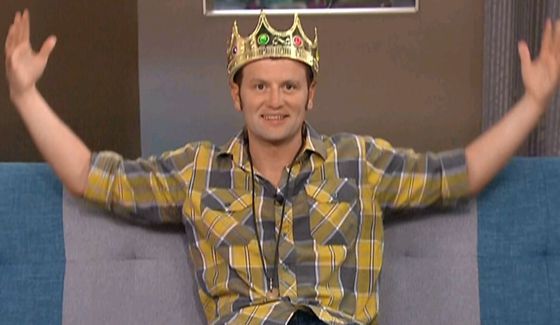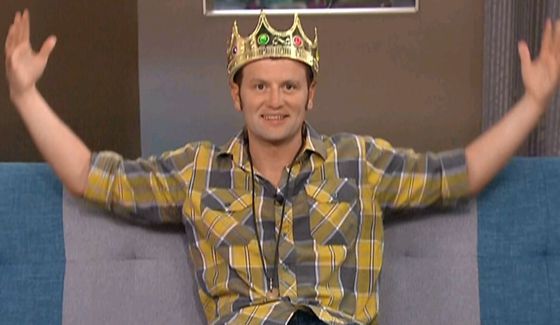 Yowza, y'all! The show and Feeds are off the chain on Big Brother 16. So much craziness has happened and the game has barely started. From watching the iive Feeds I knew that Joey was a goner so I wasn't very surprised with the voting outcome. However, I was very surprised with the HOH competition outcome! First we have Amber sprinting across the beam like she was doing her job and out of all of the girls I kinda expected her to win that one. But then you have Cody win the guys HOH competition only to find out a few minutes later that he actually didn't win because his foot touched the ground before he had actually hit his button. Sadly Devin is the new male HOH.
Devin is the LAST person that I wanted to win the HOH but I have to say I did expect the feeds to be exciting and I sure was correct about that! So we know that Amber nominates Hayden and Nicole and Devin nominates Brittany and Paola. I'm watching this competition and have to admit it looks really cool but the punishments were a bit lame. Hayden and Nicole win the Battle of the Block which removes Amber as HOH and leaves Devin in power with Brittany and Paola on the block with the target pointing at Brittany. Big Brother is a crazy game and things can change at any given moment!
From watching the Feeds it looks like Devin has done a 180 and has won the veto and is wanting to use it on Brittany but Brittany wants to refuse the veto?!?!?!? I mean is this Big Brother or the twilight zone? I am confident that Big Brother will not allow Brittany to refuse the veto given that she didn't win the power and that kind of is the point of the POWER of veto.
It looks like now that Devin is really wanting to replace Brittany with Zach which really sucks because I see great potential in his game but maybe Devin does as well and he thinks more logical than I give him credit for. I see that Frankie is already trying to throw his good buddy Zach under the bus! I mean come on Frankie first Victoria and now Zach!?!? I know this is Big Brother but Frankie goes against the people closest to him. I don't know if this is really smart or really dumb of him. I can't wait to see how this week pans out and I really hope that Brittany and Zach both stay and we see Paola talking to Julie Thursday night.
J-U-Double D
Be sure to keep up with Judd online:
Twitter @JUDDNATION
INSTAGRAM @juddnationbb15
My website is juddnation.com
Find me on Beamly