While I know it was disappointing for many to see Devin go from number one target to complete safety this week on Big Brother 16, I've gotta hand it to him, I have no idea what he's thinking. Not sure he does either, but he better figure it out quickly because here comes the Veto Ceremony.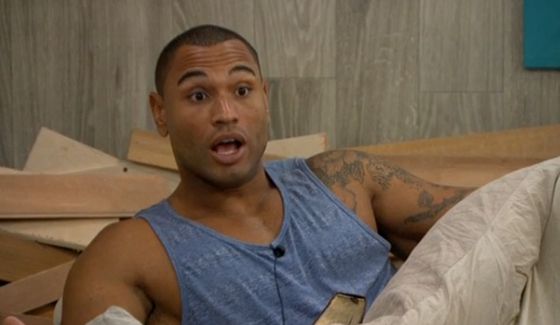 Devin has made a lot of promises and a lot of threats in his short time as Head of Household and he's soon going to have to reconcile all those conflicting plans.
Days ago Devin promised Pao he'd save her from the block if she threw the Battle of the Block competition. Next Devin had a heart to heart with Brittany where he promised her he would use the Veto on her. First the idea was for Victoria to be renom'd, but now Devin is considering a "Plan B."
Last night Devin spoke with Christine and Frankie (Flashback to 12:53AM BBT) where he suggested two different options without being completely clear to them. The implied alternatives seem to be Plan A: take down Paola as promised and renom Victoria. Plan B: take down Brittany and renom Zach.
This all comes just one day after Devin gave a huge speech to the entire Bomb Squad alliance where he reminded them the deal was for no one to turn on him or the alliance. Well that turned out to be more of a "do as I say, not as I do" sort of rule.
Caleb and Frankie spoke yesterday and in a surprising reversal of roles, Caleb was defending Zach against Devin's possible plan to renom him while Frankie drove the Big Brother bus all over Zach. Caleb wants Devin to respect the alliance and keep it together while Frankie doesn't seem interested in defending what I thought was a solid alliance between the two. Zankie is done. Sorry, folks.
Will Devin really pull the trigger on this plan against Zach? I'm not so sure. He talks a big game and offers a thousand ideas, but he can't seem to stick to anything. The other night he told Caleb the B-S alliance was over and he was done working with him. A few hours later they were all okay.
Devin is about as capricious a Houseguest as they come. I'd probably be least surprised if Devin did nothing at all and the Power of Veto went unused. Then again, will Devin's newly developed crush on Brittany set her free?
The Power of Veto Ceremony is coming up later today so we'll get the spoilers on Devin's final decision. What do you hope he does with the Veto today?
Update: Devin approached Paola and told her to keep her calm after the meeting and to come to his room. He's implying he's not going to save her. She goes back to him and they start arguing. Now Paola is going around talking about it to others. This could be one of the best Veto meetings we see all season! Do not miss the fallout. Have your Feeds ready.