Joey Van Pelt came in to the Big Brother 16 house as a complete novice to the series but, after a series of critical mistakes, could be on her way to make a name for herself in the BB record books along the lines of Week 1 evictees, Brian Hart and Keith Henderson. Let's discuss what went wrong.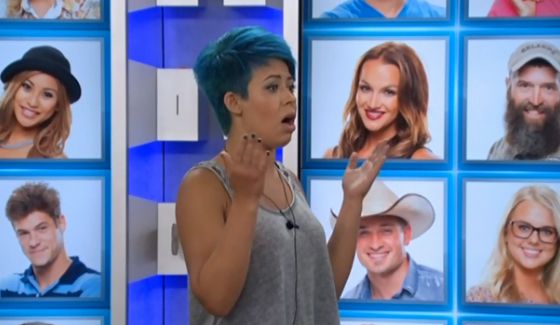 When the Feeds first launched we learned Joey had out'd her all-girls alliance as she joked about no one wanting to work with her. She's since explained that decision away as a "dip s*** move" and one rooted in trying to help her allies escape any consequences of their failed attempt to bond.
Now with an upcoming Veto Ceremony the house has shifted and Joey is in serious danger of being the final target for the week. Unfortunately for her chances of survival, Joey made a very questionable move last night and confronted her own target with bad (but entertaining) results.
Donny is going use his Veto to save himself which means Caleb will have to name a renom. There aren't many options for Caleb outside of his massive eight-member "Bomb Squad" alliance which includes Frankie, Zach, Cody, Derrick, Devin, Amber, Christine, and Nicole. Caleb can't put up Brittany or Victoria since they won the Battle of the Block. Just four options are left and Joey's alliance collapse and her actions last night makes her an easy target. Here's what happened.
Flashback on your Live Feeds to 5:45PM BBT on Saturday as Joey explains to Devin that she's done all the "equations" and "calculations" and has cracked the Big Brother "Code." She finally understands the game and is ready to master it. Let's see how that works out.
click images to see full-size views
Caleb told Joey to be prepared to go up as a renom. He explains he is polling the house for who they want nominated and he'll go with their choice. The truth is he's limited to those four choices and has already picked Joey, but she seems to think Caleb is really doing this polling nonsense.
At 5:58PM BBT Joey makes a House Announcement (consider it an extremely brief House Meeting). She tells all that Caleb is doing the HG polling and to make sure they tell him who they really want up on the block so that this is can be a "fair" action by Caleb.
Want to watch these events? Click here to get the Live Feeds Free Trial now & see it all!
At 8:25PM BBT Joey and Zach are chatting in the hammock. She suggests someone other than her should go up and finally admits she wants Devin to leave instead of her, naturally. Zach immediately agrees that Devin should go. Derrick comes over and they start talking about Joey's desire to confront Devin with this information. The guys suggest a House Meeting (yes, please!), but Joey wants to do it privately.
click images to see full-size views
8:35PM BBT, Joey pulls Devin in to the Hive and tells him her plans to get him renom'd and evicted this week. He nods and says okay, he understands. She goes back outside to Zach and Derrick thinking "wow, Devin took that really well" while Devin goes to everyone else inside and tells them what just happen. The house is hysterical over her bizarre decision to tell Devin this news. Devin piles it on my saying Joey told him the house wanted him out, but actually she only said she wanted him to be the renom and evicted.
click images to see full-size views
The rest of the evening is spent with Joey going around and explaining to HGs that she's decided Devin should be the renom and target for the week. HGs smile and nod while acting like this is the first they've heard of it, but they all already learned about it (and laughed about it) with Devin.
When not in Joey's presence the HGs mock her game play and decision while wondering how she could be so bad at this. It really is a thing to be in awe of considering just how messy she's playing.
click images to see full-size views
Despite everyone now agreeing that Joey has sunk her own ship and will be evicted on Thursday most agree that Devin truly would be a much better target. So why not get Devin out? Because as some HGs point out, it all comes down to one person: Caleb, and Caleb is not going to renom Devin. Plain and simple. He made this clear the other day. Ain't going to happen.
So what happened here? It was a classic Week 1 implosion. In Boogie's preseason interview with Jeff he gave great advice. Week 1 someone always implodes. Make sure it's not you. Joey imploded and everyone else is just grateful it wasn't them.
On Monday Donny will use his Veto to get off the block. Caleb will renom Joey in his place. On Thursday night watch for Joey to be overwhelmingly voted out. The Bomb Squad alliance outnumbers her supporters who are quickly fading away and will soon join the majority to keep their own heads down.
As for Team America, I don't know what they'll do about all that, but we'll find out soon.